---
By The GMS Team
---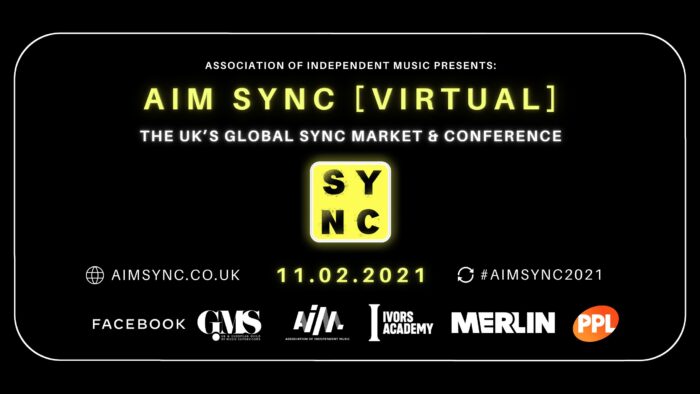 ---
On February 11th AIM (The Association of Independent Music) continued their innovative way of hosting the third annual AIM Sync by going Virtual once again. A huge thank you to AIM for giving the opportunity for our GMS members to join the day for free.
There was an amazing turnout with over 8,000 viewers from 70 countries taking part in the event, thank you for tuning in and submitting your questions for the panellists!
The day started with an opening speech from AIM CEO, Paul Pacifico who talked us through what was to come in the day and highlighted the resilience of those in the Sync community over the past year.
We were thoroughly entertained by each panel throughout the day which has been insightful and vital to covering varied sync topics. From discussing the current Sync market to masterclasses in negotiations & clearances to music in gaming to fun discussions on TV shows.
As well as this, there were a number of useful Listening & Networking sessions! These booked sessions gave you the opportunity to discuss your work as well as gaining tips and insights into all you need to know about Sync & Music Supervision by a handful of professional delegates all experienced in Sync.
A huge thanks to each panellist for sharing your experiences and answering our avid questions. Especially to our own board members for taking part in some of the informative and inspiring featured panels, including Matt Biffa & Ciara Elwis on the 'I May Destroy You' panel and Ed Bailie on the 'Small Axe' panel, and Iain Cooke on the 'Soundtracking a Drama Series' panel.
The end of the conference saw the second AIM Sync Awards, presented by AIM's new Chair, Nadia Khan, Founder of Womxn In CTRL and independent music entrepreneur.
The awards saw many excellent and talented nominees, but we would like to say a huge congratulations to each of the Winners!

'Music Supervisor of the Year' was awarded to Zoë Ellen Bryant & Pete Saville from Carbon Logic!
'Independent Sync of the year' has been awarded to Ninja Tune for their Sync placement of 'Witness (1 Hope)' by Roots Manuva in IKEA's 'The Hare'!
Congratulations to each of you!!
A huge thanks to everyone who took part in the third annual AIM Sync conference and thank you to AIM for asking us to be partners with them for this event, we were absolutely delighted to take part again!
From all of us here at GMS, we hope you are all keeping safe and well and we hope to see you face to face soon!