---
By The GMS Team
We caught up with the Crème de la Crème of gaming supervisors, to discuss the newly added games categories.
---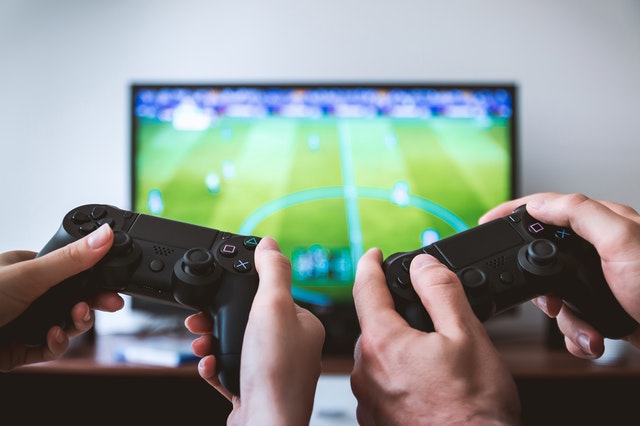 In case you missed it, the first round of nominees for the Music Week Sync Awards were announced a few weeks ago. The big news this year is the new category additions, one of which is the 'Music Supervisor – Games'. The winner of the award will be chosen based on their technical innovation, artistic merit and the creative process as well the evidence of commercial benefits to those involved in the production.

The first of this year's four nominees is Janesta Boudreau. Janesta is known for her work on trailers, soundtracks, and in-game score for Planet Coaster and Elite:Dangerous among others but also the newly announced Jurassic Park World Evolution! "I was extremely pleased to see the addition of video game music supervision to the categories this year." Janesta said.
Soundtracks in games that feature mainstream chart music have become commonplace in recent years. Notably Grand Theft Auto 5 has an incredibly diverse soundtrack with 16 in game radio stations and 240 individually licensed songs. The yearly release of FIFA always comes with a highly anticipated soundtrack, which is always has exceptional range featuring chart toppers, entry level bands and everything in between. In some years the soundtrack has had better reception from the gaming community than that game itself
Janesta told us; 'It's important that the sync industry recognize the opportunities in gaming; that the games industry recognizes the increasing importance of having a music supervisor (or someone with a licensing background who can 'speak music') on board to support the audio team's work; and that both industries continue to realize that just like putting music to picture – putting music into a game is important in order to bring each game world to life. Who wants to play GTA with no tunes, right?!'
"Long gone are the days where we have the 'ol 8-bit soundtrack playing in the background. Music in games is now much more interactive and responsive than ever before. Game trailers have become as big a production as those for blockbuster movies and many games have official soundtrack releases that rival film and television soundtrack releases."

Game trailers have become an important format not only to promote games but also artists. Imagine Dragons song 'Radioactive' featured on the trailer for Assassin's Creed 3 nearly a week before it was first distributed to radio stations. The trailer certainly caught the attention of the masses not only creating hype for the game but also promoting an artist many hadn't heard before.
Our next nominees are the guys from Feel for Music, Ben Sumner and Glenn Herweijer, who in part are nominated for sync work on trailers; a field the guys are well known for following high profile work on Assassins Creed, Hitman and Metro Exodus. They were asked by Square Enix to get a major artist to cover Ben E King's 'Stand By Me' for Final Fantasy XV. Working with Globe, international teams and rights holders the project secured Florence and The Machine, with the added challenge of working across multiple timezones. This track features as a key part of the marketing campaign, in-game and also on the accompanying OST that is packaged in a deluxe version.

"It's also always nice to get recognition for your hard work, so we're happy to be nominated for the Music Supervisor award and I think these things only spur us and everyone else to make bigger, better and more interesting things happen!" Ben said. "You could argue that they perhaps could have added the categories earlier but I think it's great that the recognition for the importance of the video game space in the context of music sync is growing."
'At Feel For Music we've we've worked on some really cool in-game stuff in recent times with Florence & The Machine and Daughter creating original music for our projects.' Indie trio Daughter were recruited by the team to create an original soundtrack for Life is Strange: Before the Storm. This was a new project type for Daughter but the Feel for Music team and Square Enix gave them the creative freedom to work, with short briefs to build from. The result is an immersive full game soundtrack that is emotionally intertwined to the journey of the characters, and the release of a standalone album through 4AD / Glassnote to boot.


'With LiS: Before The Dawn, we really wanted build upon the success of the previous game and take things to another level; Daughter have delivered some unbelievably good music and helping them delve into the world of interactive score has been a great experience and seeing the early response to the music from fans has been amazing'.
In the gaming industry, which was estimated to be worth just under $100 billion in 2016, there is a huge pool of talent at every level. In Ben's words 'It's a really creative space and there's a lot of exciting music placements and partnerships going on at the moment. We were really pleased to see the addition of the extra award categories for video games.'
The next nominee is a true heavyweight in the industry, Sergio Pimentel has been involved in sync for 17 years. Sergio has worked on many high profile projects, among them Guitar Hero DJ Hero, SingStar, Motorstorm, and Call of Duty amongst others. These projects incurred significant logistical and technical challenges for any music supervisor but bringing his own special touch Sergio secured high profile licenced tracks for the projects again and again.
Reflecting on the success of sync Sergio said 'The medium is very exciting to work in with the technological developments and story telling being one of the reasons why many well known film composers at the top of their game have wanted to score video games. It's been a hugely important medium for sync both from a creative and financial point of view. There has been some amazing Music Supervision work done in the video-game field for years so it's surprising that it has only just been added.'
Music supervision isn't just about securing licensing deals, it's about creating a unique and deeply immersive environment. Here Sergio tells us about one of his favorite projects 'I have so many amazing projects but one that certainly stands out is when I was at Playstation working on The Getaway Black Monday. We recorded a new score by composer Marc Canham at Abbey Road which was used within the cut scenes in the game which were very cinematic. We partnered with Ninja Tune and had 4 of their artists remix the themes from the score. We worked with Amon Tobin, Diplo, Lo Tek Hi Fi and Blockhead and had 1000 limited edition vinyl set of 3 with extended mixes of the remixes on one side and etchings of 1 of the 3 main characters on the other side of each 12". We worked to promote the vinyl set and it ended up reaching no 1 in Mixmag's charts for the package!'
He is nominated for his work in 'Lets Sing International Edition' among other projects. With this project Sergio again shows us the logistical challenge of being a music supervisor; 'I'm dealing with local offices in Europe and USA to ensure we get the very best music. I licensed over 180 songs with accompanying videos and lyrics which included local repertoire in Spain and France amongst others. It's almost like I'm back at Playstation working on SingStar as I did in the early days when I set up the department over there!'
Lastly we look at nominee Duncan Smith, who has been working at Playstation since 2007. In that time he has been involved with projects that range from Gran Turismo Sport to marketing campaigns for the Playstation VR headsets. Duncan was nominated in part for his work on the upbeat launch trailers of WipEout Omega, which showcases the game's revival.
Duncan likes to take a cooperative role with his sync projects, it's important to him that artists have the space they need to work, while still fulfilling the requirements of the soundtrack. When working on DriveClub Bikes he 'encouraged artists to take the original material and really run with it – in whatever crazy direction they wanted to go'
'It's great to see Music Week Sync Awards recognising the growing importance of video games to the music industry. Gaming is a fast growing area that has become fully integrated into the mainstream but can still lag behind in terms of credibility in some people's eyes.' Duncan said.
'This award helps raise the profile & status of music in video games & puts it on an equal-footing credibility-wise with other more established media. This can only be beneficial when it comes to licensing music & working creatively with artists on game soundtracks.'
From all of us here at the Guild good luck to each of the finalists, together and individually you have produced some incredible work! The Music Sync Awards takes place on the 19th October, stay tuned for updates on the winners!