---
Karen Elliott and Becky Bentham have worked hard to bring Judy Garland's voice back to life on the silver screen, releasing in UK Cinemas October 2nd 2019.
By Vicky Bennett / GMS Administrator
---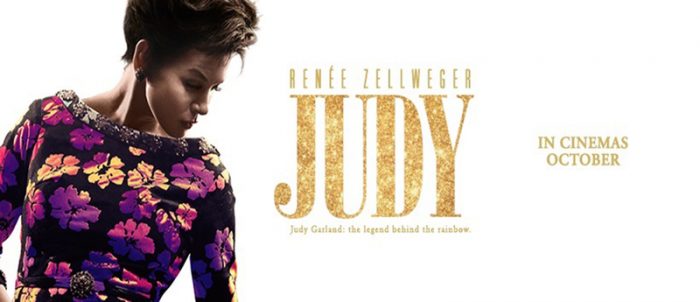 Judy Garland is considered iconically historical when it comes to both her film and on-stage performances, but this film delves in deeper behind closed doors as we find out what Judy's career and home-life were like towards the end of her life.
As music is an integral part of this film, the guild caught up with music supervisors, Karen Elliott and Becky Bentham that co-ordinated and revived the voice that once lit up the silver screen. We asked them both a few questions to get a better understanding of their work and process throughout the pre and post-production of Judy.
To start off our interview we spoke to Karen Elliott MS for Feature Films such as Fantastic Beasts and Where to Find Them, Colette and Three Billboards Outside Ebbing, Missouri. Karen worked on the pre-production and the shoot.
Vicky: What drew you into working on the music supervision for this film?
Karen: I was initially contacted by Fiona Mcguire at Pathé, she sent me the script which I read over. Judy Garland is an iconic actress and artist and the period they were looking at portraying the film is the end of her performing career and her life. It is a fairly tragic story and you find out within the film that she made some very poor choices in her life – mostly in husbands and managers! I found that interesting and I don't think it's a story of part of her life that has been told before. Everyone knows her for her very successful feature films she starred in but her life was quite tragic and that's what drew me to it.
V: I can imagine it is interesting to know exactly what was happening behind closed doors as you don't get to usually peek behind it, especially towards the end of her life.
K: The majority of the film is set whilst Judy was over in London performing at The Talk of the Town. Rosalind Wilder was assigned to assist Judy for the tour. Rosalind still lives in the UK and became a source of inspiration to both Production and Renée. It's another thing that attracted me to the film – that it wasn't completely a made-up story.
V: Can you explain the process you had done for the film in terms of the music supervision for the pre-production and the shoot?
K: Once they had a script that they were fairly happy with then for me the first thing to do was a script breakdown. This identifies every single musical instance within the film, whether that be Judy singing or somebody doing a piano scale or her children singing and dancing. You have to break everything down from a hum to a full-blown performance of End of the Rainbow and everything in between.
The next thing to ascertain is making sure the music can actually be licensed and that was actually a great deal of research. Because they were such old songs there was never anything simple as one publisher being involved, and until you have 100% of the song approved, you can't use it.
Then when they announced Renée Zellweger was going to play Judy, I got involved in the preliminary but important things such as voice coaching. Then we had to choose an MD (musical director) who could arrange the compositions for Renée and Production.
Next, there were the rehearsals, then finally when we felt ready we went into Abbey Road Studios and we pre-recorded the tracks. Not all were pre-recorded there's a fine line as some of the songs needed to be acted, certain performances needed to be raw and spontaneous. So, we had to break it all down to find out which ones were "acting songs" as opposed to "singing songs". Then going back to the compositions themselves, we had to call in all the licenses and make sure all contractual wording was correct before we filmed because once you film, there's no going back. Pathé did everything correctly and called in all the licences before we shot a frame.
V: How did you feel that the music you selected and placed within Judy played an integral part in the film?
K: We were dealing with something historical that actually happened, so we were mainly choosing from songs and medleys we knew she had sung. The few other things that we slotted in, were creative choices between tracks I suggested and what the director and the producer liked.
Next, we spoke to Becky Bentham MS for Feature Films such as Mamma Mia, Bohemian Rhapsody and the upcoming, Cats and asked her the same questions but as she worked on the post-production and the score recording there were various differences in her process.
Vicky: What drew you into working on the music supervision for this film?
Becky: Having done a lot of film musicals and music biopics which have been really enjoyable, this project, which included on-camera musical performances, plus other songs and score was really interesting to me. Having all these elements to consider on any project is always a big attraction. Also, admiration for the artist being portrayed, since Judy is such an icon, so the opportunity of digging a bit deeper into her story was really exciting.
V: Can you explain the process you had done for the film in terms of the music supervision for the post-production and the sound recording?
B: When I came on board, the materials had all been shot, so going into post-production we are required to refine everything to make it as good as it can be. The pre-records or live recordings needed to be fine-fitted to picture so that the end performance is as believable as it can be, so the audio and in vision performances don't feel disconnected in any way.
Then we considered if any re-records needed to happen, as well as discussing with the Director where we might need other source music.
Once they had a Directors cut which was refined up to locked picture, we went into the studio and recorded the big band and strings for the on-camera numbers, which had been shot to demos on-set, then we were sending other song suggestions over to the Director, making sure our choices were within budget and suitable for the period. Then, once final tracks were selected and locked into the final film mix we went on to licence those other songs.

Meanwhile, we discussed the requirements for the underscore and which composers would be suitable for the project. In this case Gabriel Yared. We then worked closely with the Composer throughout the creation of the recording and the mixing of the underscore.

V: Of course as it is a biography there is not as much creative freedom in there as opposed to a different film would have, how do you feel it differs for you?
B: It doesn't differ greatly. I think with a regular movie you're still making sure that any songs and composer suggestions are appropriate for the content and period of the film, to make sure there is some kind of cohesiveness across the entire soundtrack, so you would never have complete creative freedom.
In the case of Judy, it covers the last part of Judy's life, so the period is very clear and the style of music is led by the on-camera performances that are in the script.

When you're working on a musical biopic the style is set up from the outset so in a way maybe it's more straightforward.

However, in other films, you usually find that the script and/or Director's vision for the music sets the creative direction pretty early on.

Thank you once again to both Karen and Becky for taking the time out to give us an in-depth look into the musical creation of Judy.
You will be able to watch Judy in UK Cinemas from the 2nd October and later released in the rest of Europe on various dates by the end of 2019, you can watch the trailer here.