---
We're providing sessions dedicated to the deeper aspects of a music supervisor's job
By The GMS Team
---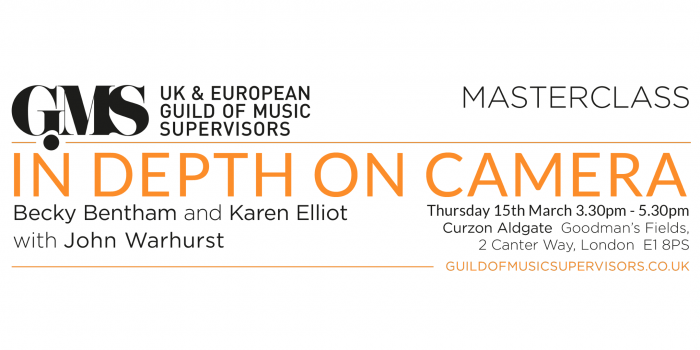 As part of our mission to educate and raise awareness of the craft, we've put together a series of In Depth masterclasses being held at Curzon Aldgate, London.
The masterclasses will go through some of the aspects of a music supervisor's job in greater detail including score records, licensing, working with composers and on camera work. Guild members will benefit from discounted tickets however there is a limited number of tickets available to non-members.
The first in the series on the 15th March will be dedicated to on camera performance and will be led by Karen Elliott, Becky Bentham and music editor John Warhurst. The session will go into detail on how to coordinate all the elements of on camera performances for media productions. Get your tickets here.
Next up is a session dedicated to all things licensing and will be led by three experienced music supervisors across film & tv, ads and games; Kirsten Lane, Ed Bailie and Martin Hewitt. With an impressive list of credits between them, they'll be able to guide you through all the complicated elements of the world of licensing. Tickets are already selling fast for this one so get your tickets now to avoid missing out.
Score Record – 18th April 2018

The third session will be focused on score record, led by Maggie Rodford and Hilary Skewes. Hilary is a musician contractor and Emmy-nominated score coordinator. Her list of credits is extensive and includes Murder on the Orient Express, Mum's List, State of Play, Albatross and so many more. Maggie Rodford is one of our board members and MD of Air-Edel. She represents composers and music supervisors worldwide and has worked on a huge number of high profile productions including The King's Speech, Kubo and the Two Strings, Cinderella and more. Tickets available here.
How to Contract a Composer – 25th April 2018
Our final masterclass is on the topic of contracting a composer and will feature Maggie Rodford and Alexander Ross of Wiggin. Alexander Ross is partner and head at Wiggin, with over 20 years of experience. His knowledge of contracts is second to none and we're pleased to be able to offer you the chance to learn from his expertise. Purchase your tickets here.
We're expecting these events to sell out so to secure your spot we suggest getting your tickets now before they go!