---
By Vicky Bennett / GMS Coordinator
---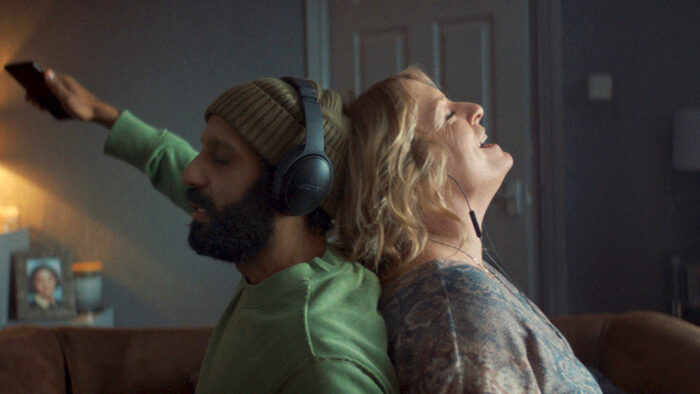 ---
We had the absolute pleasure to speak with Music Supervisor, Connie Farr, of ThinkSync Music and Composer, Harry Escott, for their incredible BIFA 2021 win for Best Music for 'Ali & Ava'.
Connie and Harry delve deeper into their work behind the story of two lonely people, Ali and Ava, who come together and bond over their deep love for music. Connie and Harry tell us more about why the featured songs were chosen, touch on their writing process and discuss their collaboration with Director and Writer, Clio Bernard.
---
How did you come to be involved with Ali & Ava and what was it that drew you towards working on the film?
Harry:
Clio shows us the extraordinary within the ordinary – Adeel Akhtar (who plays Ali) said something like this in his acceptance speech at the BIFAs and it really resonated with me. Within the most ordinary of settings, Ali & Ava display an extraordinary capacity for love and care. After reading the script, I found myself wondering whether it was extraordinary or whether we just don't notice that this behaviour is all around us because we don't place enough importance on it as a society. Either way it left me wondering how I could be more kind to those around me – a good question for a script to leave you pondering and definitely a project I wanted to be involved with.
Connie:
I'm a huge fan of Clio's work and as Harry has said, her ability to show the beauty in the ordinary. I was introduced to Clio through Tracy ORiordan who I worked with on Hong Khao's 'Lilting' and Ameenah Allen who I worked with on Sarah Gavron's 'Rocks'. I absolutely loved 'Ali and Ava' when I read the script. It felt authentic and raw and I was extremely excited to explore the role music plays in telling a simple and honest love story between two complex yet real characters. I was particularly drawn to the humour in the script too, it felt very human.
After initially reading the script, and understanding that music is integral to the story and enveloped all throughout this film, which scene did you look forward to working on the most?
Connie:
When I first read the script, the scenes I most looked forward to exploring were the ones where they share their music and it brings them together- as in they find common ground- like the scene where they are jumping up and down to The Specials 'Dawning Of A New Era' on the sofa shouting it as they listen in their headphones. These are moments of pure joy and it's a great search to work on.
I was also really excited about working on the scenes when they listen to each other's music when they're alone- such an intimate way of connecting with someone as a relationship develops, which I think will resonate with everyone in the audience. The music plays such a pivotal role in those scenes – it was a challenge to find something poignant that suits the characters, fits tonally and emotionally but that was also feasible within our budget!
Harry:
In the film, Ali has to learn and perform Dylan's Mama You Been On My Mind on a ukulele and I was initially sent the script to see if I could help Adeel prepare for those scenes. I bought a few different ukuleles in various tunings in order to prepare for the session and he, very graciously, tried them all out and then pulled out another ukulele from his bag. It was a homemade instrument that had a couple of extra strings and its own peculiar tuning. It had been given to him as a gift and he suggested very humbly that he might try it on that. He played his own fragile, beautiful rendition of the song and I realised I was just there to reassure him. What a talented fellow!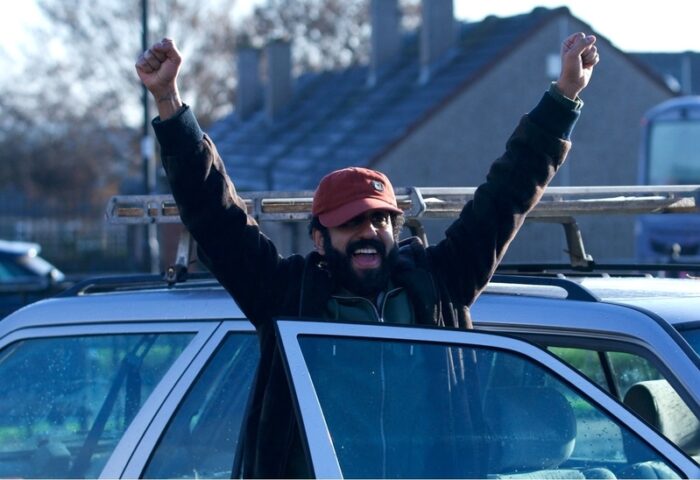 Connie, what was your preparation process for supervising this film & were there any challenges involved going forward?
Connie:
The first thing we did, before the shoot, was talk to Adeel and Claire about their own music taste to get an idea of what they connected with personally. Based on this, I then started a Spotify playlist for each which I built on and expanded as Clio and I discussed the character's musical history and journey- this was done very much as a collaborative process with Clio.
Once we'd established a 'musical identity' for both Ali and Ava, myself and Dom Farley (assistant music supervisor) conducted an extensive search into Independent artists and hidden gems to start working on specific playlists for each scene where a diagetic music cue is prominent. We liaised with different labels/publishers so that we ended up with a diverse selection of new releases as well as securing known tracks within our limited budget.
Bob Dylan's 'Mama On My Mind' was written into the script and from the very outset, before we started shooting I began negotiations with the rights holders immediately as there were multiple uses of the song in the script. Clio wrote a letter that was shared with Bob Dylan's manager and once we had approval, we could start exploring the other cues for the story. Clio wanted a very diverse musical landscape, to reflect the reality of where the story takes place, which I always really enjoy. It involved a lot of research, liaising with local artists, 'pre-clearing' the Pakistani piece used in the Bollywood exercise video, exploring different grass root scenes etc.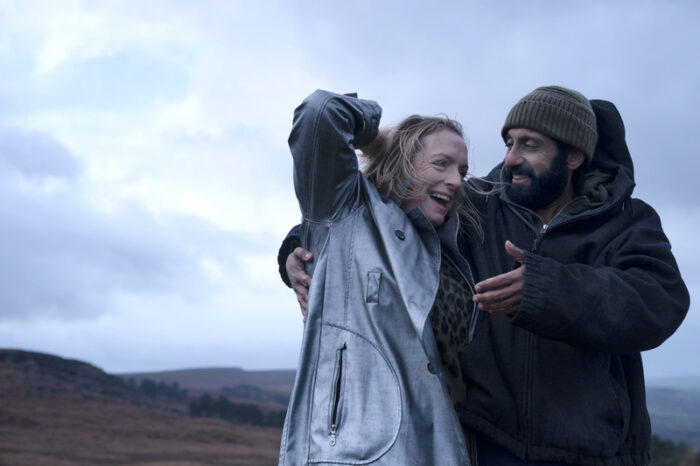 Harry, can you talk a little about your role throughout the writing process?
Harry:
Connie's world is the real score to this film. The licensed tracks are part of the storytelling device, often acting as score normally would. I remember after a very early screening of an assembly finding the soundtrack quite overwhelming, even jarring at times – just because of the sheer amount, variety and prominence of them. My job was to make sure those tracks worked as effectively as possible and to help all of the transitions. Almost every track is helped in or out by some score and many are bolstered with layers of score underneath but, hopefully, the audience isn't aware of this at any point, you should just feel a bit more rage during Pelicandy's 'You And Me Baby' at the bonfire scene or a bit more warmth as Ava listens to Sylvan Esso's 'Radio' on the bus.
Connie, throughout the film, the two main characters listen to music as an escape from their everyday stresses. It's the force that brings them together.
— With this in mind, how closely did you collaborate with the director, Clio Barnard, to interpret what musical tones she wanted from a scene?
Connie:
As mentioned previously, we used Claire and Adeel as our inspiration, once Clio and I had discussed the musical tastes of Ali & Ava we then put together themed playlists of options that would work within our budget for each cue. We then narrowed these down to the tracks that would work emotionally / tonally for the scene and those that had the right energy to reflect the interaction between them. It was a very collaborative process and we had a huge range of options to play with. Clio is very instinctual with music and we had a great working relationship. Also, as our budget was limited it meant we could really explore independent options which is very rewarding.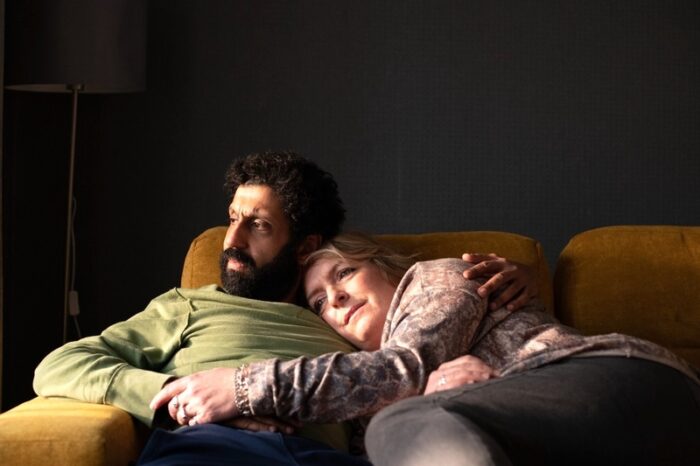 Harry, you have collaborated with Clio Barnard since her work on The Arbor. Is there a specific process you go through with her to ensure that you show the utmost representation when composing music to set a scene or to create a characters' musical tone?
Harry:
Clio is a very open collaborator. She encourages discussion and experimentation. So, we talk and try things out… a lot! Towards the end of the process, the discussions become increasingly focused and we will spend hours in the studio together listening through to each cue. For Clio, the score is all about feeling without noticing so the slightest of things can become unusually significant.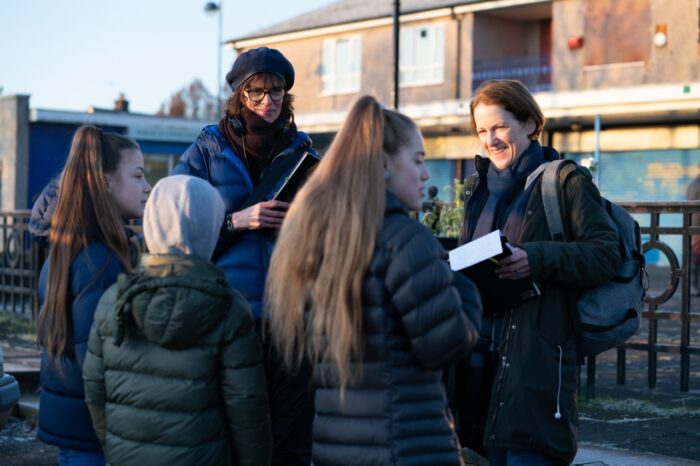 How closely did you both work together to ensure that both the soundtrack and score complemented each other?
Harry:
I would say more closely than I have on many other projects, certainly in so far as I was aware of all of the decisions that were being made about the music tracks from before the shoot and Clio was asking me my opinion about various choices. And then, ultimately, once Connie had given the thumbs up and the film went into production, the "top layer" of the soundtrack was set so I was working very closely with those tracks throughout the postproduction process.
Connie:
Once we had filled the initial cut of the film to the brim with music(!) we then worked at narrowing down each choice. Once the tracks had been decided on we then relied on Harry to marry all of this very diverse soundtrack into the fluid storytelling that it is!
What was your most memorable moment/highlight of working on Ali & Ava?
Harry:
Clio asked me to produce a cover of the song Grace for the film and we had tried out lots of different singers who had all done beautiful renditions for us but none were quite hitting the mark for various reasons. At the eleventh hour I asked a friend in desperation if he knew anyone that might be able to help and he told me to try Karan Casey. I sent her the track and within a couple of hours she sent back the most beautiful vocal. I will never forget hearing that for the first time – still makes the hairs stand up on the back of my neck just thinking about it.
Connie:
I absolutely adore the cover of Grace that Harry and Karan recorded- it's beautiful.
I think, for me, the best part was definitely seeing how the film brought all of these incredibly diverse elements of the soundtrack together into a really special piece of storytelling. From the Pakistani music cues, through to The Buzzcocks, Daniel Avery, Lunar C, Ocean Wisdom, Sylvan Esso, Bob Dylan through to Karen Dalton and The Specials. Quite a random mixture on paper, yet when you watch the film it makes sense as you are drawn into the story- a really beautiful love story set between two very real, ordinary people in Bradford.
---
Thank you so much Connie and Harry for speaking with us here at the GMS, it was an absolute pleasure to dive into the musical world of 'Ali & Ava' and we look forward to seeing what you both do next!