---
This months composer corner sees the brilliant composer duo, The Flight discuss their work on the up and coming Assassin's Creed Odyssey as well as their journey, experiences and inspirations all throughout their career working together.
By James Marshall / Playstation
---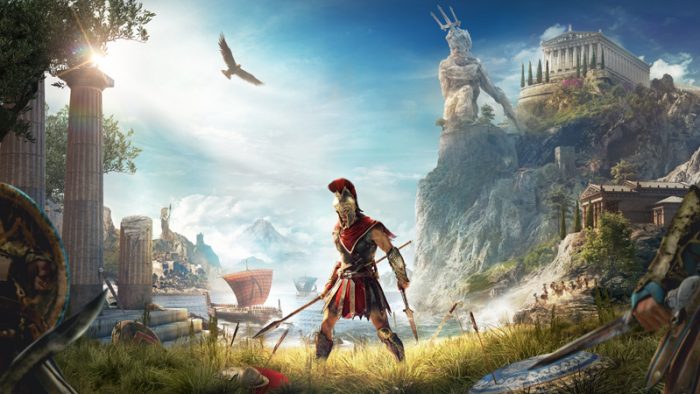 The Flight are an award-winning composer and production duo who have created music for some of the biggest game franchises of the past decade. Alexis Smith and Joe Henson first collaborated on an album for Joe's band Seventhsun and since then they have worked posthumously with Jerry Goldsmith, written music for the post-post-apocalypse and gone Greek with their latest work on Assassin's Creed Odyssey. We posed them a few questions about their meteoric ascension to the game music A-list.
Hi Alexis and Joe, thanks for taking the time to speak to us. No problem, delighted to speak to you. Where better to start than with your current project. Assassin's Creed Odyssey follows the series' fascination with history and is set during the ancient Greek Peloponnesian War. What was the pitching process like for a project of this size? As you might expect on a project like this, it was pretty in-depth. The developers wanted to make sure that we could cover the main pillars of the game whilst bringing something fresh to the franchise. Lydia Andrew, the Audio Director, had written a pitch document with historical references, some of the backstory, and key images that they wanted us to take inspiration from. The actual pitch entailed writing three short pieces; a battle scene, some atmospheric exploration, and a thematic piece. Although this sounds like a lot of work, it was actually easier not having to cram all our ideas into one composition. We put a lot of love into the pitch pieces, and were delighted when they called us back and told us how much they loved them too. Previous composers for the series – including Jesper Kyd, Brian Tyler and Sarah Schachner – have all given their own spin on their respective historical settings. How did you go about writing music for the setting? Were there any specific musical instruments or styles you wanted to explore? Was it a challenge to avoid writing clichés? Because of the pitch process, we had already started our investigation of the overall sound of the world. We wanted to incorporate a flavour of the period and setting, without simply writing music that sounded like it came from Ancient Greece. Obviously, there are times in the game and the score where a more authentic sound is relevant, but for the main thematic arcs, we wanted to stay reasonably contemporary. One of the ways in which we achieved this was to research the instruments which were present in that era, and then find their 'descendants' that exist now. The ancient Greeks invented a lot of the early versions of modern instruments, and so this process was not limiting. We went to Hobgoblin Music and the Early Music Centre, and bought dulcimers, lyres, harps, panpipes, and psaltry, and these instruments became a key part of our score. There have been a lot of action movies associated with this time period, and so it was a challenge to create something fresh. We began every cue by playing those instruments in a small group and recording the result, warts and all. Some of the more action-orientated pieces would then be worked up in weight and punch, but a lot of the exploration music is quite sparse and organic. This 'organic heart', played on instruments that are maybe a little less familiar to the modern ear, gave us the originality we were searching for. Let's look at one of your earlier scores – Alien: Isolation – which used original themes written for Ridley Scott's 1979 film. What was that like as a process? How difficult was it to balance the familiar with the new, especially given this was an experience 10 times the length of a film? What were the challenges when composing using established themes? Or did it feel liberating to a degree? We are both huge fans of the Alien franchise, so this was a once-in-a-lifetime chance to contribute to it. Creative Assembly, the developers of this project, had created an amazing world, which felt like an authentic, interactive recreation of the original film. This had to be our starting point too, studying the key Jerry Goldsmith themes and style, and then extrapolating from there. Luckily, the developers had licensed some of the cues from the original film, so we did not have to get involved in pastiche or soundalikes, which are always highly dissatisfying. While we used this as a starting point, we were also aware that the experience of the game was close to 25 hours long, so we would need to develop the music as we went along, in order for the score not to become like wallpaper. Our overall concept was to start the game close in style to the original score, sparse and orchestral, but then as the game progresses, the music evolves, bringing modern and synthetic elements into the mix. By the time the player reaches the explosive finale, they've travelled through 35 years of horror music, and are now firmly in the present day. Horizon: Zero Dawn – a massive open world game set a thousand years after the fall of mankind in a world populated by animal-like robots– was a huge undertaking. How long a process was it from start to finish? What was it like collaborating with the other composers on the project, such as Joris de Man and Niels van der Leest? The game had such a broad scope. How did you settle on what the post-post-apocalypse should sound? Horizon: Zero Dawn was a very different beast. We worked on it for 2 years, sharing the main game composition with Joris de Man. Whilst most of the music we each wrote was separate, we did get to collaborate on some tracks, which we always enjoy. As we come from a background of working with bands and making records, this comes very naturally to us. We start every project by sitting down and discussing the sound of the world we are in, what it might sound like, and what kind of instrumentation can help us achieve that. A lot of the time that involves applying rules to each area, and actually restricting ourselves. With today's technology, anything is possible, so sometimes we have to reduce the scope to make things sound new and interesting. The world of Horizon: Zero Dawn is an interesting one, it's sci-fi, but it's also prehistoric. The modern word is in ruins, with nature reclaiming the earth, so we took this as a key to the sound of our score, combining acoustic and electronic elements. Guerrilla Games asked us to make the music sound like no other, so we picked instruments that we could play in unconventional ways, as not to sound instantly recognisable. We liked to imagine how the new human tribes would have figured out how to play these historical artefacts, and so we bowed resonator guitars, created an orchestra of harmonicas and played banjos with a pen! The score went on to win the Ivor Novello award for Best Video Game Score and was also featured at PlayStation in Concert at the Royal Albert Hall, both within days of each other. What was that like as an experience and do you feel the mainstream perception of video game music has begun to change? Being completely honest, it was a dream come true. We had both been to the Ivor Novellos many times when we were working in the conventional music industry, and had always respected those awards as some of the best to win, as they are fully judged by your peers. Going back a few years later, nominated and winning with Horizon: Zero Dawn, was simply an amazing experience and one that we will remember for the rest of our lives. It's also great that BASCA and PRS have included the world of video game scoring back into their flagship event, as there is some great music being made in this growing area. Looking back at your work you've covered a wide range of styles, genres and scopes. What has been your greatest achievement as a team and what would be your ideal project to work on in future? Our greatest achievement is being able to have a career doing what we love. Our hope for the future is to be able to keep doing this, working with fellow musicians and composers on projects that inspire us. Our thanks to Alexis and Joe for answering our questions. Horizon Zero Dawn and Alien: Isolation are currently available to buy. Assassin's Creed Odyssey is released on October 5th 2018 for PlayStation 4, Xbox One and PC.