---
By Will Brook-Jones
With Walter Mair and Volker Bertelmann
---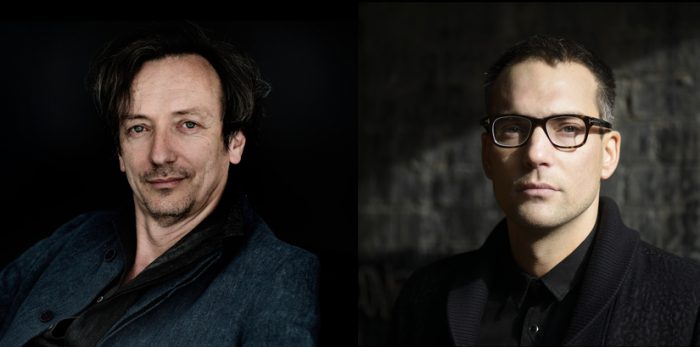 Soundtrack Cologne is a yearly event which recognises and commends sound and music for visual media. Across a number of days various industry professionals host talks addressing relevant industry topics, with each day of conference focusing on one field of the media – whether that be video games, film, TV etc. We spoke with two composers – Walter Mair and Volker Bertelmann – who were both in attendance at this years conference.
Walter Mair is an award winning composer who has quickly developed a reputation for his captivating original scores. Mair's style spans from hybrid electronic scores, to pieces involving full orchestras and intimate, smaller ensembles. He has worked on many high profile projects, with his music making appearances on Rockstar's video game series Grand Theft Auto, Universal Pictures' documentary Ronaldo and the Netflix programme The Same Sky to name a few.
Volker Bertelmann (who works under the name 'Hauschka') has worked on numerous projects over the last decade, particularly in the spheres of dance, theatre, art and film. Having composed an award winning short film soundtrack and four feature length film scores – including Doris Dorrie's Gluck which was nominated for Best Film Score at the German Film Prize in 2012. Bertelmann is a well known name in the industry and is regularly compared to the likes of John Cage and Steve Reich.
Soundtrack Cologne is one of the few conferences that put a real focus on composers specifically, would you like to see this spread to other conferences?
Walter Mair: Yes absolutely. I welcome seeing more and more platforms emerge for composers and up and coming artists in the field of music and composition.
Volker Bertelmann: Yes of course, because there are not many occasions where composers can meet in one place and have an exchange. I think it is a great pleasure to share experiences with other musicians and creatives.
What was your experience of Soundtrack Cologne, the community aspect and what did you take away from it?
WM: This was my first Soundtrack Cologne as a speaker and I was very impressed by the organisation of it all. The whole event felt like a great joy, engaging with emerging talents and speaking to other established composers. The sense of community was present throughout the event and it was really good to interact and chat with the new generation of composers which is coming through.
VB: I felt that it was a very open atmosphere. I believe it is necessary to meet people from your own profession in a surrounding where there is no pressure and no competition. I think that Soundtrack Cologne is able to provide this extremely well.
On to your work with projects now. When you're brought in to work on something, is that through your personal relations with directors, supervisors etc?
WM: This happens mostly through a personal relationship with a director or producer, but I have also had jobs where the music supervisor has recommended me. It is always great to have a good relationship with the other main music person on a film or TV show. The more that both work hand in hand, the better the results are. Something that I highly recommend to new talents, is to connect with the music people and decision makers throughout our industry. Being known for a certain style of music and connecting with music supervisors can help to secure a job.
VB: I am brought into projects in many different ways. Sometimes this happens through concerts – because directors or producers saw me perform – or sometimes I am the choice of the supervisor or the directors. This doesn't necessarily mean that I get the job though. To get the job you need to be accepted by everyone on the film and that is a tough ask. A lot of times it's a question of trust that you have to earn over years. I slowly understood that I was not chosen for projects in the past because people didn't know me as a film composer.
How much does working with a music supervisor alter the way you work?
WM: Working with a music supervisor from an early stage in the creative process enables a composer to bounce off ideas and find a mutual musical language. This makes the whole process a lot quicker and enables both people to come up with suggestions for original music and licensed music that will work hand in hand. From instrumentation to an overall musical style.
VB: I think a good music supervisor has an overview of the score and the licensed music, and helps to make all the music work well together. So of course the choices a music supervisor makes influences my choices as well in an ideal scenario. However sometimes composers don't get to interact with the music supervisor on productions, which is not ideal at all.
How do you see the Guild of Music Supervisors benefitting the composer community?
WM: The Guild and it's members can make a big difference to a composer's life. From guiding new talents with advice, to supporting the musical vision of a composer. There can't be a close enough bond between the talents working on the music for a movie or TV show. Having a strong partner throughout the whole process, from the first spotting session to the final mix, helps the musical narrative of a soundtrack.
VB: The music supervisor's job is to have a huge knowledge of music, musicians and composers who create the music style and sound they are looking for. I think it is a big help for them to be introduced to many composers in one spot, to get to know them better on a personal level, and to become familiar with their work. There is no better place than Soundtrack Cologne to meet other music professionals and have a productive exchange.