---
By The GMS Team
---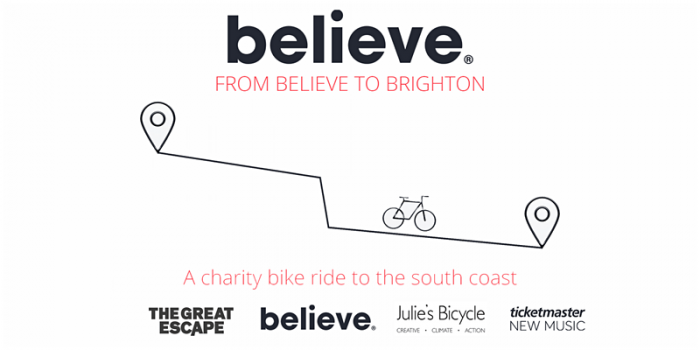 Wednesday 8th May 2019 saw over 20 industry professionals take to the roads and embark on a charity bike ride from Believe's office in London all the way down to the Brighton coast in time for The Great Escape festival. The ride, organised by Believe Music Group in aid of Julie's Bicycle, was 95km long and took in some of southern England's most beautiful (and steepest!) roads. In return for their efforts, riders were given entry to The Great Escape's official opening party and were welcomed for pizza and drink the following day at Believe's TGE event at Dead Wax Social.
After last year's very successful launch event, 'From Believe to Brighton' is coming back this year and registration is now open! This is a unique experience to join like-minded music professionals for a day on the road, all while raising money towards a great cause.
Participants have until 8th March to complete registration. Spaces are limited, so if you're interested, follow this link to sign up.
"It was great to cycle from London to Brighton in May 2019 with such a kind and fun bunch of people! So excited at the prospect of doing it again this year! Thank you, Believe, for choosing us as the designated charity and supporting our work with the music industry in this climate emergency." – Laura Pando, Managing Director, Julie's Bicycle
About Believe 

Believe is the world's largest fully independent music distributor and services provider. With more than
1,000 staff and offices across 44 countries we offer scalable deals via our 20 brands including full-service distribution with Believe, DIY digital distribution via TuneCore, plus artist services and record deals via our in-house label group; made up of labels such as AllPoints, Naïve, Animal63, Phases, A4Ward, Tôt ou tard, and Nuclear Blast whose rosters include the likes of M83, Bjork, The Blaze, Ben Howard, James Vickery, Erland Cooper, and Slayer. Believe also owns physical distributors Musicast in France and Soulfood and Rough Trade/Groove Attack in Germany. In 2018 Believe Group collected $500M royalties on behalf of our artists and labels.
For more information, visit: believemusic.com

About Julie's Bicycle
Founded in 2007 to respond to the climate crisis, Julie's Bicycle is working globally across the creative sector to reduce greenhouse gas emissions and catalyse the green creative economy. Working with over 2,000 organisations, NGOs and governments worldwide, Julie's Bicycle has developed an approach which harnesses the power of the creative sector to communicate the reality of the climate crisis, advocate for science-based solutions, take bold practical action, and offer support and advice to those who share their vision. The team blends environmental expertise with arts and cultural sector experience, and the freely available resources constitute the most comprehensive library of good environmental practice developed specifically for the arts and culture sectors anywhere in the world. Designed and developed by Julie's Bicycle, the Creative Green Tools – a suite of carbon calculators and a certification scheme – are the recognised benchmark for sustainability achievements within the creative industries. Since 2012, Julie's Bicycle has been the Arts Council's contracted delivery partner for supporting its funded organisations in reporting their carbon footprint and developing environmental policies and action plans.

For more information visit: https://juliesbicycle.com/

About The Great Escape Festival
The Great Escape, the festival for new music, will be kicking off festival season by playing host to over 500 up and coming artists and a music-led conference across 30+ walkable venues from 13-16 May 2020 in Brighton, England. More than 500 global acts will be announced, as well as secret shows, Spotlight Shows, collaborations and The Late Escape, the late-night electronic strand of The Great Escape! Tickets for The Great Escape festival start from £70 and are on sale here!