---
By Sarah Bridge
Hear how Sarah Bridge crafted the perfect soundtrack for the gripping TV Drama, Guerrilla.
---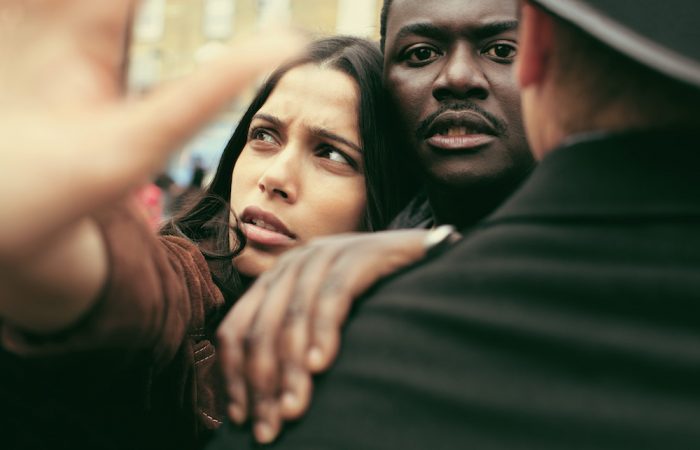 Guerrilla is a story focusing on a politically explosive time in UK history, the show is centred in London, in particular areas of Notting Hill and Brixton in 1971. We spoke to Sarah Bridge about her work on the show and how she put together the soundtrack.
"At the show's core the focus is the black power desk – a unit within the UK police dept centred on subordinating black activism, and through this narrative there is a strong portrayal of the ever-growing multicultural society within London.
My work on Guerrilla commenced with me spending a significant period of time researching music from from 1971 and earlier that was playing a strong social, cultural and political role within these communities. This research came from musical archives, speaking to record dealers in Notting Hill (e.g. People's Sounds Records), individuals who had lived through this time and were a part of the movement and also some academic reading on black music's history in the UK.
This included looking at cultural trends of musical immigration into the UK in the late 60's/early 70's. The early rise of afrobeat and afrorock within the UK struck a sonic chord with the shows creator and director John Ridley and as a result the soundtrack features tracks by bands such as Assagai and Osibisa and Britiain's first all-black progressive rock band Noir who only released one album, "We Had To Let You Have It", in 1971 (the tapes for which, had to be dug out of BMG's vaults and digitised).
The radicals in Guerrilla would be listening to underground music and so the soundtrack reflects that. I reached out to Femi Kuti (the late Fela Kuti was in London recording his album "London Scene" in 1971) to see if he would perform live on screen. Femi felt passionate about the subject of the show and the period of history that was being represented, so flew from Nigeria to spend a day rehearsing with a band of session players which I resourced ahead of a day of filming and performing live on set.
Music plays a unique role in Guerrilla. All of the musicians play live during scenes as a result of John Ridley wanting the environment to feel as real as possible. The soundtrack includes live performances by Femi Kuti and United Vibrations and songs by Assagai, Osibisa, The Ethiopians, Noir, Judy Mowatt, Slim Smith, Curtis Mayfield and The Pioneers. Original score by Max Richter."
If you want to hear more about Sarah or the Guild of Music Supervisors, click here