By Vicky Bennett / GMS Administrator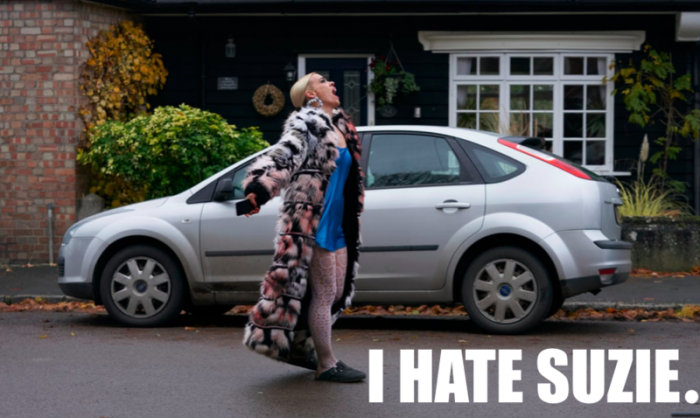 ---
Billie Piper reunites with Secret Diary of a Call Girl writer, Lucy Prebble, to deliver an outstanding new series on Sky.
Piper portrays a former child star, Suzie Pickles, now married with a child, whose life suddenly changes when she wakes up one morning after being offered a job at Disney to find out personal and intimate images of her have been hacked and leaked online. Suzie navigates through this incident through Shock, Denial, Fear, Shame, Bargaining, Guilt, Anger and Acceptance.
Since I Hate Suzie was released in August on Sky Atlantic, it is no secret that music only helped complement the characters and the development of the story through the 'emotional stages' in each episode.
We had the pleasure to speak with the Music Supervisors, Zoë Ellen Bryant & Peter Saville from Carbon Logic (Peaky Blinders, Save me too, Deadwater Fell, Blinded by the Light) who curated the outstanding soundtrack for the show which can be read below. (containing some spoilers of the show).
---
Vicky: After initially reading the script, which scene did you look forward to working on the most?
PETE: I'd only seen the EP1 script. There were so many good parts just in that. It was one of the sharpest scripts I'd read for ages. We came on board super quick facing a gruelling schedule, and a week later the COVID lockdown happened. And then it was just full steam ahead. Georgi the director sent us the assemblies of EPs 1, 2 & 3. They were so good. Her use of temp music at that point was amazing too – she had really sculpted it. Georgi has a great ear and that led the way for us throughout.
ZOË: We came to the project pretty late so didn't see scripts, except EP1. We dove straight in to watching the first assemblies. A lot of music ideas were there already – from writer/exec producer Lucy Prebble, director Georgi Banks-Davies and Billie Piper – but in terms of scenes I personally was excited to tackle the Sci-Fi convention in episode two and the wedding disco in episode six. We did also need a few Boyz II Men back-ups for the episode two drug dealer car scene, which was a lot of fun! An excuse to re-listen to 3T, All-4-One, Another Level etc.
Vicky: How closely did you collaborate with Billie Piper and Lucy Prebble to interpret what music they wanted, to set the tone of a scene?
PETE: Very closely. Billie and Lucy were across every single detail of the show, not just music. So we'd be digesting their opinions on every cue during spotting and music edits (virtually on ZOOM), whether that was score from Johnny & Nathan, or commercial ideas from Georgi, us, or one of the editors. Both Billie and Lucy understand what's going on with the characters and narrative inside-out, so the music had to live up to that depth or it would detract rather than amplify.
ZOË: Very closely. Billie, Lucy and Georgi were all very involved in the music – both the commercial music and score (composed by Johnny Lloyd & Nathan Coen). And in terms of songs already chosen ahead of our involvement, we knew how important they'd become to the tone of the show, so did our absolute best to clear them.
Vicky: Suzie battles and spirals through many different emotions as we, the audience, watch on wondering what her next move is going to be. How did you both interpret the themes of the episodes knowing that each one is centred around these different emotional stages?
— Did you want to mirror these feelings in the music you chose?
PETE: The score definitely reacts to each episode's theme. Every episode was already stylised in its look and references by the directors Georgi and Anthony. The music style adapts accordingly for each episode. For instance the wedding EP6 was purposefully directed, shot and edited like a piece of UK gritty realism, whereas EP4's "wank" episode is fantastical throughout and jumps in and out of reality, all over the place (it was one of the hardest episodes to lock and finish).
EP8 had to feel like a feature film score, something like Punch Drunk Love. An emotional journey from start to end with a warm but heartbreaking resolve. Then you have EP7, which used classical music (at Naomi's drinks location) up against a "free jazz" drum score ramping throughout.
ZOË: Generally, we didn't approach the commercial music cues as having to be based on an episode's theme. But there are certainly times where a commercial cue explicitly reflects Suzie's emotional state – such as Consumer Electronics "Affirmation" in episode seven (Anger) and Aretha Franklin's "I Apologize" in the final episode (Acceptance).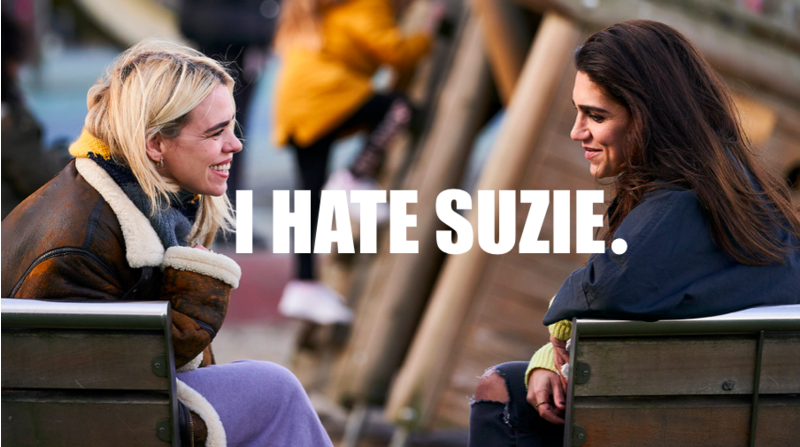 Vicky: When Suzie finally reaches acceptance, the final scene seems to come full circle as she sings the song which brought her to fame in the first place, to two men who seemingly have no idea of her struggling ordeal, starting anew.
Then, the final song, 'I Apologize' by Aretha Franklin plays as Suzie and the two men walk into the night, which I feel perfectly encapsulates her final state of mind.
— What helped you decide that this was the song you wanted to accompany the audience with as they process the thoughts and the emotions they are left with at the end of the show?
PETE: Aretha plays just before Suzie meets the couple – she's on the bridge, alone. She's just called Cob and he explicitly says "I will never forgive you and I will make your life a living hell from now on". Suzie just says "OK". Such a tough point. Clever too as you think it's the ending. The choice of "I Apologize" came from Georgi. She must have listened to just about every Aretha song, but when Georgi put "I Apologize" on it… well, we just had to try to license it, even if it pressurized budget decisions on music elsewhere.
ZOË: I think the reason the song works is because, although it's an apology song, there's a (Waltz-y) lightness and matter-of-fact-ness to it. Suzie is sorry for the hurt she's caused, but is also ready to move on. She accepts responsibility, but is beyond the self-pity she felt in episodes four and six. The tone of the song allows more than a glimmer of hope for Suzie's future, whilst the lyrics don't let her off the hook entirely – which is a great balance.
Vicky: Were there any challenges you faced throughout the process of this project and what was your most memorable moment/highlight of working on I Hate Suzie?
PETE: The biggest crazy challenge was entering a project as lockdown happened.
The entire post was done through that period. So the people management and communication were crazy. There were multiple strong opinions to consider, and when you can't all get in a room in front of an episode and thrash it out, it's easy for decisions to hit a stalemate and end up with a bad compromise. That was a huge pressure, to try to get the right decisions and keep the show completely uncompromised when you couldn't even meet.
The composers Johnny & Nathan were in different countries, so spotting was all on ZOOM… and our music editor was in his home studio. So you can imagine, logistically, it was all about double, triple, quadruple checking every little bit, every edit, mix and version! Luckily I'm very anal on organisation and schedules (some people call me "Spreadsheet Pete"!). I also try to keep conversations about music very clear, transparent, and simple. Music is a really hard thing to put into words, and I have no formal training so tend to speak about music from an emotional or energy point of view – what it does to picture rather than what key it's in! I hope that helped not getting lost in translation.
There were so many memorable moments! My over-arching memory is just how much I would laugh and/or have tears in my eyes when watching episodes. The performances, writing, directing. It was very apparent that it was going to be really good. That wasn't about music, that was just about brilliant scenes. Like when Suzie loses her patience in EP7 and sings "fuck you" to the pretentious director. Or Cob and Carter having a "hug" in the restaurant in EP5 after Carter calls him "mate"… so awkward and brilliantly funny.

ZOË: Aside from working completely remotely during lockdown (!) the biggest challenge was the lack of time we had to clear the almost-20 commercial tracks involved (not to mention creative on all the production music needed). We knew how important certain songs were to the team – including an obscure 1930s Japanese Blues track! – so the race was on. We also oversaw the music edit with music editor Ed Hamilton, who worked directly with Johnny and Nathan on the score. Not exactly a "moment" or "highlight", but it was an overriding pleasure to work on a great show with three women at the helm.
Vicky: What was your favourite scene to watch back after final mixing took place?
PETE: For music cues… I absolutely love "Under The Ivy" by Kate Bush at the end of EP5. Gives me shivers which is what a great scene with a great piece of music should do, amplify everything. I also love how it ends with enough silence on the overhead shot, long enough to be uncomfortable, off-kilter.
I have to name some others; at the opposite end of the spectrum, the coke dealer in the car in EP2 with "End Of The Road" Boyz II Men on the radio – I literally laughed out loud every time I watched that one. J Balvin's "Mi Gente" in EP1 was a great statement of intent, this was not going to be your standard show. And same as you, "I Apologize" from Aretha at the end, which felt like a classic movie.
ZOË: Definitely Boyz II Men "End Of The Road" in the drug dealer's car. Continues to be hilarious on every watch. Kate Bush's "Under The Ivy" in episode five is great too – beautiful. Finally, it's very satisfying to have Bananarama's "Cruel Summer" in there – one of my all-time favourites!
---
Thank you Pete and Zoë for taking the time to speak with us, we wish you both the best and look forward to your future projects!