By Vicky Bennett / GMS Administrator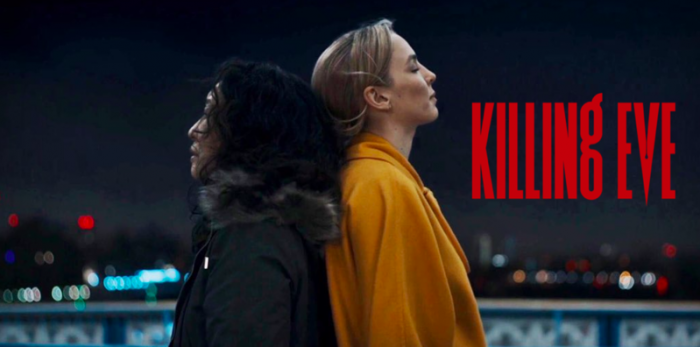 Following Killing Eve's nail-biting season 3 finale that aired earlier this month, we spoke with music supervisor, Catherine Grieves, to delve deeper into how they once again curated the thrilling and exceptional soundtrack for your favourite duo!
Vicky: After initially reading the script for Season 3 of Killing Eve, what musical tone did you want to set throughout this season?
Catherine: Over the past two seasons I think we've created and developed a really strong musical identity and tone for the show, but each season gives us a new challenge, pushing us in different directions while staying true to our Killing Eve world. Eve and Villanelle's relationship is complicated and ambiguous, but there are moments in this series where they come closer together and that balance between obsession and emotion becomes more blurred. It was important for us to make sure that the music matched their journey, not saying too much. This series we also get to know Carolyn's character on a deeper level, which meant developing her musical world too.
As well as the previous season, musical trio, Unloved, features once again as the central soundtrack in Killing Eve which highlights a strong female-led vocal, appropriate for mirroring such a strong female-led show.
— I wondered how closely you worked with Unloved in this season when choosing their tracks to use and why you feel their music is suitable for highlighting and reflecting seasons three's story?
Catherine: David, Keefus and Jade had written some new Unloved songs since season 2, so it was great to hear a new selection of songs for this series, and David and Keefus had also written a really exciting new batch of score cues. David can always find the right music for the storyline, whether it's crafting the score or Unloved songs to the picture – or we look at commercial music for those other moments.
Killing Eve is known for its characters moving from country to country, how do you ensure that the music moves with them, as well as making sure that the audience is also transported to the location by the music?
Catherine: We like to use music from the country where are characters are located, sung in the local language. It's something that we start looking for as soon as early scripts are drafted and we are told where we might be visiting, as some countries can be more challenging than others. This season we start off in Spain – we found some awesome rare Spanish Ye-Ye songs from the 60s (thanks Ace Records!) that worked really well for our two big murder scenes, and we also visit France, Poland, Russia and Scotland. We try to make sure that any music that we use fits our Killing Eve sound, 60s/70s European, psychedelia, garage rock or music influenced by those sounds so that the soundtrack feels homogenous across the songs and score. Helpfully, David wrote some crazy Russian inspired score so that we could avoid the clearance nightmare that is Soviet-era copyright!
Through each season, the ever constant chase between Villanelle and Eve seems to be the central focus for the audience. During this season, you can feel the chase coming to what seems like the inevitable end and if anything, they are becoming allies at long last.
—The final scene highlights this further when Villanelle and Eve walk away from each other but turn around, whilst the song 'Tell Me' by Johnny Jewel is playing. As an audience member, I feel it perfectly encompasses their relationship.
Is this how you wanted the audience to feel when hearing this song alongside the scene taking place?
Catherine: Tell Me was a song that David sent to the editors right at the start of the process. We like to give the editors and directors lots of music to work with from the start so that they can temp with music that we're confident will be great. It can be tricky to replace music once the producers and directors are used to watching the scene with a particular track, and as musical taste is so subjective, we are always keen to avoid four different directors starting off with their own individual musical spin on a series, and for us to then have to potentially try and change everything after picture lock. That's not to say that directors haven't made some great song suggestions, or that we haven't had to fight some battles to convince everyone why they should choose a particular track over something else, but it's always about what we think works best for the show. Tell Me was edited to the end scene from very early on, and it worked so well, everybody wanted to make it happen.
Which scene did you enjoy watching back most after final mixing took place?
Catherine: I was looking forward to seeing the end scene with Tell Me as we had only seen it with the green screen until I saw it on TV. Not quite as atmospheric! Given that our brilliant post team had to finish the last two episodes in full lockdown AND the series broadcast date was brought forward by two weeks, episode 8 was only finished a week and a half before it was broadcast, so I think everyone was very pleased to watch that one back!
What was your highlight/most memorable moment of working on this season of Killing Eve?
Catherine: Killing Eve is always a joy to work and collaborate on, and I'm glad that it gave some people something to look forward to each week during lockdown!
Thank you once again to Catherine for taking the time out to speak with us, we look forward to your future projects and the next season of Killing Eve!
You can listen to the brilliant soundtrack HERE
You can stream Killing Eve on BBC iPlayer HERE