---
By Zac Smith / The UK & European Guild of Music Supervisors
Introducing the Advisory Board members of the Guild of Music Supervisors UK & European Chapter
---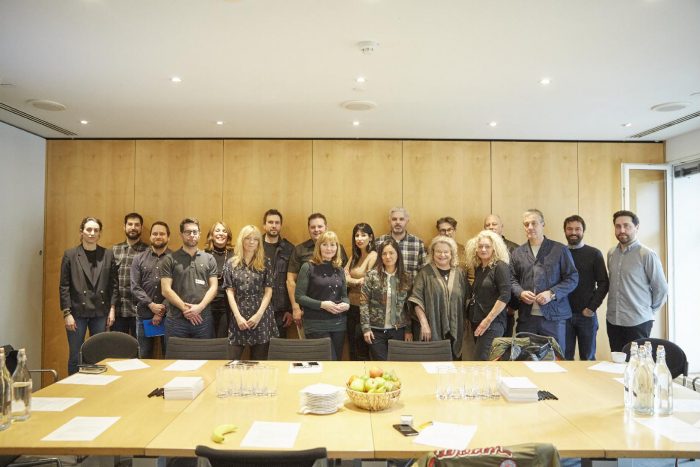 With the UK & European Chapter of the Guild aiming to improve the industry's understanding of supervision as well as strive for music supervision excellence it only makes sense that we have a board of advisors worthy of achieving such a goal. Take a look at who's on board and helping push for quality across the industry.
Ian Neil
There are many reasons why Ian is one of the first ports of call for many film directors and producers. His extensive knowledge gained through years of experience makes him a master of research, handling music clearances, solving budgeting issues and a valuable member of the Guild.
Before becoming an independent Film Music Supervisor, Ian built his strong reputation through his work at Polygram Records where he acted as Head of Film and TV and at Warner/Chappell Music Ltd where he was Director of Film, TV and Advertising. He currently resides at Sony Music as Director of Film & TV and continues his supervision work with his own consultancy. Iain's credits include Lock, Stock And Two Smoking Barrels, Snatch, Kick-Ass and 127 Hours to name a few.
Matt Biffa
Matt's love for music, like most, started from a very young age, when he would swipe records from his parent's collection. His career as a music supervisor started at Air Edel in 1996 when it was noticed that his music knowledge of music was better than most, some even call him the musical equivalent of Wikipedia.
He cut his teeth sourcing music for commercials including Jonathan Glazer's Guinness – Swimblack campaign. Matt has since worked on projects including Paddington, Fresh Meat, Harry Potter and the Deathly Hallows Part 1 and Harry Potter and the Goblet of Fire, for which he put together a wizarding rock group consisting of Jarvis Cocker from Pulp, and Jonny Greenwood and Philip Selway from Radiohead.
Sarah Bridge
Music is an intrinsic part of Sarah's DNA. An award-winning music supervisor based in London, her childhood is filled with joyous memories of her father's recording sessions and family summer holidays spent on the jazz festival circuit. The history of cinema, script writing, and music in film were her topics of study at the University of Arts London, which she has put to practice in a career spanning 15 years, covering music journalism, A&R and music supervision.
Sarah's rapidly growing list of credits include The Theory of Everything, Ab Fab, The Movie, The Sense of an Ending and Sky Atlantic drama Guerilla.
Dan Neale
Dan has been working in the music and advertising worlds for close to 20 years. The skills learnt during his time as an agency TV producer and as an advertising composer allow all came together when he joined RKCR/Y&R as Head of Music.
Now, Dan is Managing Director of Native Music and has worked on projects for Lloyds Bank, BBC Sport, Virgin Atlantic and more. Perhaps their most well known work is M&S Food's use of the iconic 'Rather Be' by Clean Bandit and the BBC Olympic campaigns for both London & Rio.
Dominic Bastyra
Dom has worked in the music industry for over fifteen years. Beginning at the independent labels Ultimate Dilemma, and Talkin' Loud, Dominic's tenacity for music caught the attention of Sony Music who made him responsible for the promotion of Sony's roster to student radio and press across the South Coast of England. He then moved to Island records, as an A&R scout tasked with finding new acts and developing them
Meandering through the world of sync and brands, working with an array of clients and companies across Europe, Dominic eventually opted for the entrepreneurial route, setting up Wake the Town & Theodore. Their team of dedicated music-lovers specialise in every aspect of a Brands engagement with music.
Nick Angel
Beginning his career as the director of A&R for Island Records, Nick was responsible for signing artists such as Pulp, Vic Reeves, Elbow and PJ Harvey. Finding his way into the synchronisation industry after placing music in films such as Young Americans, and Notting Hill, Nick acquired a love for supervision. This led to his role at Working Title as their Head of Music, overseeing myriad products including Shaun of the Dead, Billy Elliott and Bridget Jones's Diary. Outside of his work at Working Title, Nick's other credits include The Take, Paddington, Attack The Block, and Eye in the Sky.
As well as his supervision credits, Nick has a publishing company, Salvation Music, and is a founder of Raindog Films, the new production company set up by Colin Firth.
Ed Bailie
Ed has an extensive background in music publishing, having headed up the sync teams at both Blue Mountain Music and Bug Music, representing catalogues including Bob Marley, U2, Johnny Cash, Kings of Leon and Bruno Mars.
Today Ed works alongside Abi Leland at Leland Music as a Music Supervisor. Recently, Ed has worked on some award-winning campaigns such as Paralympics We're The Superhumans; John Lewis Buster the Boxer and Bulmers Live Colourful.Live. In 2016 Ed was awarded Advertising Music Supervisor of the year at the Music Week Sync Awards.
Kate Young
Kate's supervision career began at Saatchi & Saatchi, where she worked as an in-house music supervisor. In 2005, she founded Soho Music Group, an award winning independent creative music agency specialising in music supervision for brands, tv advertising, digital content and all moving image.
Kate has worked on a large number of campaigns with the likes of O2, Guinness, Audi, Land Rover and Nike. As well as her supervision work, Kate has also helped set up Soho Music Publishing and The Gin Factory Studios which is home to a number of record producers, songwriters and commercial artists.
Ruth Simmons
For over 30 years, Ruth has worked on finding the perfect balance between branding and music. As one of the first to publicly address the complexities of licensing music, Ruth has thoroughly reviewed the acquisition process in an attempt to make it easier to license music for motion pictures.
She remarks "It took me until 2002 to publicly pose what seems now to be an obvious question, you know what your brand looks like, but do you know what it sounds like?" It may have taken a while, but Ruth has found ways to measure the effectiveness of music and brand fit in relation to consumer response, rationalise business practices with creativity and use all of this to give clients insight as to how all this impacts on ROI.
Ruth is straight talking and passionate about what she does. "The day that I am not excited about coming into work, is the day that I retire" is still her mantra.
Matt Kaleda
Matt's involvement in sync began in the Copyright Dept at BBC in the late 90s. The closest thing to an in-house music supervisor BBC drama had, Matt oversaw the music licensing for TV successes such as EastEnders, Dr. Who and Holby City.
He then had the opportunity to run the sync licensing department at cutting-edge record label Ninja Tune, where he had a very successful few years placing the label's catalogue in numerous advertising campaigns, films, TV shows and video games around the world. His flare for the job led to Warner music appointing him Head of Creative Sync, providing him with the skills required to set up Sync Inc, where he would work on TV series such as Luther and Mrs Brown's Boys.
Now, Matt works at Felt Music and has most recently been tasked with supervising one of the most highly-anticipated shows in the world, Amazon Prime's The Grand Tour.
Maggie Rodford
Maggie's career is a long and wide-ranging one to say the least. She is a trained music engineer, cellist, piano player, choir singer and of course, music supervisor. As Managing Director of Air-Edel, Maggie works closely with composers, negotiating contracts, producing, music supervising and co-ordinating music recordings. Her credits include Pride & Prejudice, Brave, Kubo and the Two Strings, Cinderella, Miss Potter and My Week With Marilyn.
Maggie also served as a PRS Director for many years and was an active member of the PRS Executive Board as well being a member of the BAFTA Film committee. She is currently the Chairman of the BAFTA Archive, Heritage & Exhibition Committee.
Karen Elliott
In 2002, Karen alongside her business partner Becky Bentham founded HotHouse, who work with some of the most elite film and TV composers. HotHouse provide requirements common to most score recordings (studio, engineer, equipment hire, musicians, arrangers, music editors, conductors, programmers, copyists, writing rooms) and much more besides. They also supply experienced PAs and runners and take care of the day to day requirements of the crew including accommodation, transport and entertainment.
Karen and HotHouse have worked on projects including Florence Foster Jenkins, The Hobbit series and Fantastic Beasts and Where to Find Them.
We're delighted to have everyone on board and working towards the Guild's goals. To find out more on joining the Guild yourself, whether you're a supervisor or rights holder, click here