---
By Zac Smith / The UK & European Guild of Music Supervisors
Introducing the Senior Board members of the Guild of Music Supervisors UK & European Chapter
---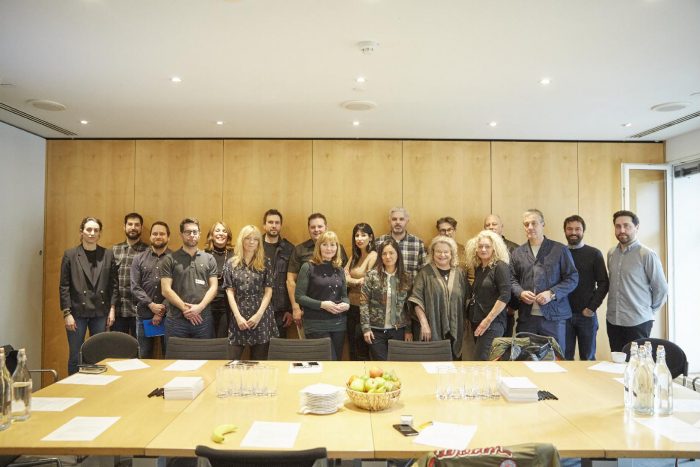 One of the Guild's aims is to promote best practice and high standards in the industry, so it only makes sense to have the leaders in supervision as our Senior Board. You can expect spotlights and features on our board members in the future but for now, here's a little introduction to everyone.
Iain Cooke
Many people with bundles of industry achievements may be inclined to possess an over inflated ego but anyone who has met Iain will know he is no such individual. Iain's experience as a music supervisor spans across many genres of television and film. From telling the musical tale of Oasis to the aiding the fiery episodes of Luther, listing Cooke's CV will no doubt take hours.
What is abundantly clear, is this is a man in high demand for his expertise. Music supervision is truly an artform in its own right. These skills are developed over many years and require constant pruning and development. The ability to aid the narrative of a story through coherent pieces of music to some, is an act of wizardry.
The UK & European Guild of Music Supervisors welcomes Iain as our President with open arms, to help promote our shared goal to provide a platform to share ideas and inspire up and coming music supervisors to join our newly formed passionate body of creatives.
If you'd like to read more about Iain, you can check out his website here
Abi Leland
For many who reach the tender age of nineteen, sweeping feelings of What an earth do I do with my life? occur regularly, alongside the joyous, yet short lived feelings, of being perfectly OK with not actually having anything to do with your life. For Abi Leland however, a career in music and film was cemented in her ambition from the age of nineteen, knocking on the doors of Soho film companies emboldened by a strong sense of curiosity and drive.
Her persistence and instinct came to fruition three years later, as she established herself as one of the UK's leading feature film music supervisors, working alongside film directors such as Kevin Macdonald on Touching The Void and The Last King of Scotland. Abi has since founded her own music supervision company Leland Music providing music for notable brands such as Sony, Nike, Honda and John Lewis.
Jacquie Perryman
Jacquie is a jet-setter by heart, travelling and living across many places in Europe and the U.S., endeavoring to source great music, for great motion pictures. Her eclectic industry experience has seen her in a variety of roles from start-up companies, to global giants such as 20th Century Fox, responsible for the musical elements of the likes of 24, The Simpsons, Buffy The Vampire Slayer, and Family Guy.
The term "music industry veteran" is thrown around a lot, but Jacquie has surely earned this accolade. Coupled with a sound business mind, Jacquie's skill set is matched only by the very best in the business, and it is a pleasure to have her on the board of the Guild..
Ayla Owen
Washington D.C., a land draped in momentous political occasions was also called home by a remarkably bright young lady by the name of Ayla Owen. With a deep passion for music, Ayla embarked on her path into the music industry in the late 90s after settling in London and managing a handful of small studios and independent record labels.
Ayla then set her sights on music supervision. Determined to get into the industry, she called on Air Edel's Maggie Rodford for advice, who inspired her to persevere until she landed her first supervision role, aiding young and chatty host, Jonathan Ross. Her career has propelled ever since, adding clients such as British Airways, Google and Levi's to her ever expanding roster. Ayla is now Head of Music at BBH / The Most Radicalist Black Sheep Music.
Duncan Smith

As is custom for many in the music industry, Duncan's story begins as an aspiring drummer in an indie band whilst studying at University. Noting his sharp ear for new music, Duncan found work as an A&R and artist manager, developing Kosheen, who's debut album sold over half a million copies worldwide. Building on from Kosheen Duncan played a key role in introducing Gorillaz, Mark Ronson, Kanye West and Amy Winehouse to the public ear during his time at ZZonked PR.
Diving into music supervision through the world of gaming, as Senior Music Supervisor at Playstation recent credits include Gran Turismo Sport, Wipeout Omega and campaigns for Playstation VR. Duncan also endeavours to connect the wider industry with other passionate music supervisors, made clear by his work with Sync Drinks and Synced In.
Rupert Hollier
After studying for his degree in Ethnomusicology, Rupert ventured into the music industry. During the first years of his career at Copyright Holdings Plc he continued to grow his knowledge of publishing and synchronisation before focusing solely on music supervision in 2007 where he worked with brands including Marks & Spencer and Nike.
In 2010 he joined Imagem as Film Synchronisation manager. As well as representing the catalogues of high-profile acts such as Daft Punk, Pink Floyd and Rodgers and Hammerstein, he also worked with brands such as Reebok, Next, Hyundai and Tesco amongst others during his time at the publishing giant. He then went on to work at Metropolis Studios as Creative Director, a title that he holds to this day. Rupert has worked on many projects, completing the music supervision, score and OST for titles including the new Martin Scorsese Presents project, Tomorrow, Mum's List, Churchill as well as the upcoming BBC reimagining of Dennis the Mennis to name a few. He was also part of the team that one Sync of the Year at the Music Week Sync Awards 2016.
Stay tuned for our next blog, where we'll introduce our Advisory Board.