---
By Jack Skates
And The Winner Is…
---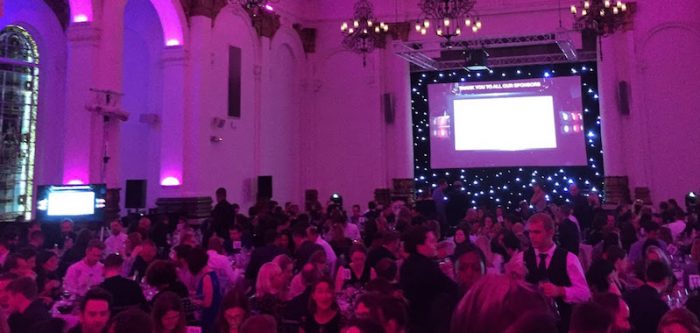 On October 19th the sync industry gathered to celebrate their hard work over the last year at Music Week's Sync Awards. Ceremonies like this are important as they strengthen the sync industry and enhance the alignment between visual medias and music. We were extremely proud to be media partners and want to applaud everyone who was nominated and congratulate those who won.
Pete Kelly was the big winner of the evening, taking home 3 awards for himself and the BT Sport team. Their work on the 'Road to Cardiff' campaign won them the award for Best Sync TV Show (Sport). London Rapper Loyle Carner tells the story of the tournament in such an emotive way that anyone (sports fan or not) would feel inspired by the captivating piece – watch it here. Pete also took home the overall supervisor award for Music Supervisor (TV) and BT Sport won the Sync Team (Broadcaster Music Department) category.
"A lot of effort has gone into making music a key part of what BT Sport does and it's really nice for us to see that recognised at an event like the Sync Awards." Pete Kelly
The second of the Music Supervisor winners was Sarah Bridge in the Film category. Sarah's most recent release is 'Goodbye Christopher Robin', the film that takes a look at the story behind Winnie the Pooh author A.A. Milne and his family.
"I have long been a fan of the work that my fellow nominees have done over the years so I'm extremely flattered to have been awarded this year. We are all so very lucky to be working in music and I am immensely grateful that I get to combine working with my two favourite art forms – film and music." Sarah Bridge
Taking the award for Music Supervisor for Advertising was Ed Bailie of Leland Music. Ed dedicated the award to the whole team at Leland, thanking them for their hard work.
For Gaming, the award went to Glenn Herweijer & Ben Sumner of Feel For Music. This was a new category addition for this year's awards and the pair taking home the first ever award in this category were deserved winners.
"We were really surprised to pick up the award last week as all the other nominees in the category are all such great music supervisors; but we are over the moon to have have won. We've been working really hard in the game space over the last few years so for us and Feel For Music to be recognised in this way is a real honour. The whole evening was very enjoyable with so much great work on display and hearing people like Nora Felder talk about her work on Stranger Things was inspiring stuff." Ben Sumner
The winner of the Sync Artist of the Year award went to Barns Courtney. If you don't know the name, you'll definitely know the voice. He's landed more than 50 placements to date and that number is just going to keep growing. Courtney was first showcased in the Bradley Cooper film Burnt. Since then, his music has been used in the film Gold, TV shows Suits, Catfish, Lucifer, Teen Wolf and Ads for Sky, Renault and Victoria's Secret. If you've been hiding under a rock and have managed to miss Barns Courtney's music, check it out here
"Firstly, we are immensely proud to represent Barns. His ability to write incredible songs that also lend themselves so perfectly for sync (across all platforms) is pretty unprecedented. In a market that is harder and harder to break new acts the power of sync is much stronger in building artist careers. Our ethos at SONGS is understanding that importance and being flexible. Seeing each and every placement as a part of the jigsaw that makes an artist as successful as they can be." Gerard Phillips, SONGS
Here's a full run down of all the evening's winners in case you missed it.
Music Supervisor (TV):
Pete Kelly, BT Sport
Music Supervisor (Film):
Sarah Bridge
Music Supervisor (Gaming):
Glenn Herweijer & Ben Sumner – Feel For Music
Music Supervisor (Advertising):
Ed Bailie – Leland Music
Sync Team (Record Company):
Universal Globe
Sync Team (Independent Record Company):
Beggars Music
Sync Team (Publisher):
UMPG
Sync Team (Independent Publisher):
Bucks Music Group
Sync Team (Broadcaster Music Department):
BT Sport
Best Branded Entertainment:
E.ON + Gorillaz 'A Solar Collaboration' – 'We Got The Power' Gorillaz

Music Supervisor: Tin Drum Music
Label: Warner Music / Publisher: Warner Chappell / Agency: WCRS
Best Social Media / Online Partnership:
KFC 'Vs' – 'Panasonic' P Money

Music Supervisor: Ayla Owen, Julz Baldwin
Label: via RINSE / Publisher: via RINSE / Agency: BBH
Best Sync – TV Show (Sport):
UEFA Champions League Final Opener, BT Sport – 'Road To Cardiff' Loyle Carner

Music Supervisor: Pete Kelly
Label: Universal Globe / Publisher: Self-Published
Best Sync – TV Show (Drama):
Broken – 'In Paradisum' Ben Robbins & Fiona Jessica Wilson

Music Supervisor: Donna Molloy
Label: Ben Robbins Music /LA Productions & Martin Dingle BBC / Publisher: Bucks Music/Ben Robbins Music/ BMG /
Best TV Show (Trailer):
Fortitude Season 2 Launch – 'Devil Town' Daniel Johnston

Music Supervisor: Sky Music
Label: Feraltone / Publisher: BMG
Overall TV Series Soundtrack:
Stranger Things Series 1, Netflix – Nora Felder
Video Game Soundtrack:
Fifa 17 – 'Comeback Kid' Kasabian
Music Supervisor: Cybele Pettus EA
Label: Sony Music / Publisher: Sony/ATV
Best Sync Video Game Trailer:
FIFA 18 – 'Energy' Avelino Feat. Stormzy & Skepta

Music Supervisor: Raphaella Lima / Cybele Pettus – EA Games
Label: Cooking Vinyl / More Music Records / Oddchild Music
Publisher: BMG, Sony ATV, Warner/Chappel
Best Sync TV Advert:
Audi – 'Windmills Of Your Mind' – Dusty Springfield
Music Supervisor: Julz Baldwin
Label: Universal Globe / Publisher: EMI / Agency: BBH
Best Sync Online Viral advert:
Prada perfume – I Can't Help Falling In Love" – Perfume Genius

Music Supervisor: Fred Schindler
Label: Matador (Beggars Group) / Publisher: Gladys Music / Agency: Too Young
Best Individual Sync Film:
American Honey – 'Recharge and Revolt' – The Raveonettes

Music Supervisor: Simon Astall
Label: Vice Records / Publisher: Kobalt Music Publishing
Best Sync Film trailer:
The Handmaiden – 'Red Sex' – Vessel

Music Supervisor: Will Quiney (Empire Design)
Label: Tri Angle / Publisher: Mute Song
Overall Film Soundtrack:
Baby Driver – Kirsten Lane
Sync Artist Of The Year:
Barns Courtney
Overall Sync of the Year:
Fortitude Season 2 Launch – 'Devil Town' Daniel Johnston Label: Feraltone
Music Supervisor: Sky Music / Publisher: BMG