By Vicky Bennett / GMS Administrator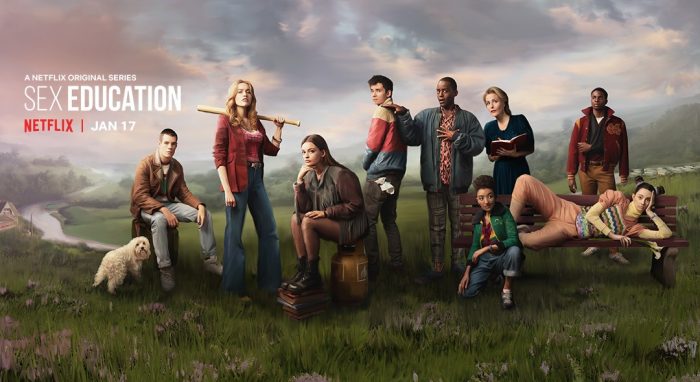 With the second season of Sex Education getting such positive attention online, we had the pleasure to speak with music supervisor, Matt Biffa (The End of the F***ing World 1&2, After Life, Giri/Haji ) behind the large compilation of the incredible soundtrack that highlighted many unforgettable scenes in the show.
Vicky: Since season 1, retro classics and slow jams have been deeply rooted in the show to highlight the sexual narrative showered throughout, which was a strong choice, especially when taking into account how the directors wanted to give it a 'John Hughes' aesthetic.

— Taking this into account, how did you collaborate with the directors and the production team to make sure you continued to highlight this throughout season 2 with your choice of music?
Matt: The thing I really want to highlight is that this is totally a collaboration between Ciara Elwis and me, the directors Ben, Sophie and Alice, and the editors Steve, David and Phil. Everyone brings ideas to the table, and this time around everyone had a much better idea of what works for the show. The most important thing is that we're being true to the characters and that we're telling the stories in the right way, so if that means we're using Sufjan Stevens' "Mystery Of Love" because "Call Me By Your Name" is one of Eric's favourite films, even though that's never explicitly revealed anywhere, then that's the right song, and we go all out to make it happen…
Vicky: After initially reading the script for season 2, Which scene did you look forward to working on the most?
Matt: Hands down it was the end of episode 7, because I found the resolution to Aimee's sexual assault incredibly moving, and I knew it would be one of the scenes that people would respond to the most. I couldn't even talk to Ben the director about it without feeling really emotional, so I really wanted to get that one right.
— Why did you feel that the music you had chosen in this particular scene was most fitting for it?

Matt: This is an easy one to ruin if you go too melancholy or too jubilant – we've got Aimee shoulder to shoulder with her friends in the back seat of the bus, and the episode ends on a close-up of Aimee's tearful, hopeful face. Sharon Van Etten's "Seventeen" seems to amplify Aimee's loss of innocence, but it also gives her strength and hope. To me, it was one of the most moving scenes in the whole series
Vicky: Which scene did you enjoy watching back most after final mixing took place?
Matt: The first three minutes of episode 1 – I couldn't quite believe we'd managed to pull that one off, pun absolutely intended…
Vicky: What were the challenges for you on this project?
Matt: We get a tonne of denials with this show because of the content and the scene descriptions are really very ripe – I usually have to call the rights holders before we send our clearance requests, just to warn them about what they're about to read and to try and give it a bit more context. Slowly people are starting to understand the agenda of the show and how important it is, so it is getting a bit easier, thankfully.

Vicky: What was your highlight/most memorable moment of working on the second season of Sex Education?
Matt: Meeting Regina Spektor at the GMS Awards this February and having her tell me how thrilled she was with Chip Taylor's cover of "On The Radio" was pretty up there, as was getting Chip on board. The man wrote "Wild Thing", it doesn't get much cooler than that…
Thank you, Matt, for taking the time out to speak with GMS, we look forward to your future projects!
Sex Education can be streamed now on Netflix, Season 3 is coming soon!