---
By Emma Francis
For the next instalment of our spotlight series, we sat down with film music supervisor Gary Welch
---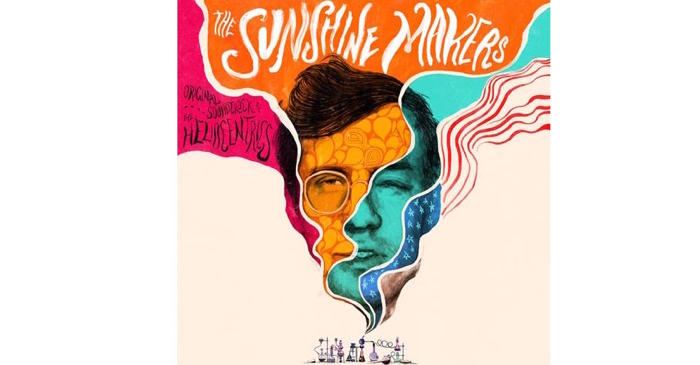 Gary Welch has carved out a niche in film music supervision for his work on cutting edge indie feature films such as Northern Soul and documentaries by leading directors including Werner Herzog and Sophie Fiennes. We had the privilege of chatting on the phone to him about his work, career highlights and upcoming projects.
So Gary, how long have you been working in supervision?
Ten years in film music supervision, my first film was back in 2007. At the risk of sounding old, I've worked in the music industry now for twenty three years
Tell us about those 23 years of industry experience, what did you do?
I was lucky enough to experience the Acid House scene as a teenager, which was arguably one of the most exciting music cultural movements since punk in the late 70's and the late 60's Summer of Love.
Not only did it have a huge impact on music, it was a catalyst and inspiration for many creative people to launch careers in the arts.
During that time you felt part of something special. I really got into collecting records heavily at this point and putting on small parties with friends and DJ'ing. At that time I was training to be a Quantity Surveyor but my mind was made up so this career path only lasted a few years and I got my first music job at an independent music distributor called Pinnacle Records in 1994.
From there I went on to a press and club promotion company and worked on the Trainspotting soundtrack sampler and for various label clients. Then a stint at an indie dance label and I eventually ended up at MCPS/PRS in the days where the Repertoire Department was made up of music repertoire specialists and you had to sit a tough music test to get in. The job allowed me time to promote monthly parties (where I booked overseas artists), programme a weekly radio show and DJ at other parties, which included playing in Ibiza and Chicago.
Then in 2007 I moved internally to the Broadcast Licensing team at PRS and started to look after UK production companies which was the lightbulb moment for me and gave me a deep understanding of how music in film and TV worked. I spent four years handling sync licensing at an independent music publisher, Westbury Music before setting up my own music supervision company primarily working on feature films and documentaries. At this point I had seven years of working freelance on films and a good pool of clients.
So how did you get into supervision?
I was asked by a Film Music Producer to help with the source music on a kid's animation film called Planet 51 produced by Handmade Films. It actually came through a composer who I met at a music in film workshop, which I attended as a guest speaker at the last minute in place of my boss at PRS.
Let's talk about your experiences on projects. Tell us a bit about working on the Sunshine Makers ?
The film is set between 1968 and 1972 at the height of 60's Counterculture. An amazing period for music, where psychedelia meets funk and soul and expression through music of the political and social movement at that time.
For the source music we used some superb tracks: Joubert Singers – Stand On The Word (Larry Levan Mix), Cymande – Brother's On The Slide (which I managed to convince the director to put in after a gig they did in London in 2014 at the time I was working on the film). Parliament, Babe Ruth – The Mexican and new artists like Naomi Shelton that capture the spirit of the time.
We also used a brilliant band called The Heliocentrics to score the film. One might say an obvious choice, but when I came on board there was a traditional film composer teed up, who the editor had worked with previously. After discussions with the Director and our apprehension of a film composer going into pastiche musical territory, we felt we needed the score to be as authentic as possible. I looked at various possible choices of artists to score the film then shortlisted and demo tested a handful of artists. The Helio's nailed the demo, their studio is audiophile heaven, all analogue with a lot of ex BBC and EMI vintage equipment. The band hadn't scored a film before and only recorded in analogue in real time, so it made for an interesting process but we ended up with a really unique sounding score. There's a 180 gram gatefold LP of The Heliocentrics score out now on Soundway Records which I would recommend picking up.
In contrast, Ethel and Ernest is a lovely, heartwarming film. Paul McCartney wrote the track 'In the Blink of an Eye for this film, can you tell us about that?
The film is an animation based on Raymond Briggs graphic novel and Paul McCartney loves animation and is a fan of Raymond Briggs work. Paul's 1980's track 'Bogey Music' was actually influenced by Fungus the Bogeyman, one of Raymond's books.
Knowing this, the director of Ethel & Ernest asked Raymond to send Paul a note about writing music for the film, and on Fungus the Bogeyman headed paper. Then the director, Raymond and the producer met Paul in 2014 before I came on board and Paul presented them with a CD of some music he had been working on, one track was labelled Mum & Dad. This track eventually became In The Blink Of An Eye used over the end credits of the film.
Fast forward to 2016 during the latter stages of post-production and by this time Carl Davis was in full flow with the score and by coincidence Carl and Paul had worked together twenty five years previously. So Paul and Carl met up to work on the string arrangement. Paul was touring at this point, but had a small window to write and perform lyrics and recorded them at his Hog Hill Mill Studios in Sussex. The string arrangement was conducted by Carl and performed by the Chamber Orchestra of London at Angel Studios.
In addition to Paul's song and Carl's score, as the film starts in 1928 and moves through the decades to the late 1960s we also used some wonderful big band sounds of the 1930's, popular romantic ballads from the war years, comic songs in the music hall tradition right through to pop culture of the 60's. All the pre-60's licensed music I sourced on original 78rpm Shellac records and transferred them with the help of a guru who used to consult for the National Sound Archive using a unique analogue method of conversion with a custom built gramophone record player and a purpose made analogue computer!
The soundtrack album is available on CD and digital on Decca Records.
Another animation project you worked on was We're Going on a Bear Hunt which involved working with George Ezra, can you tell us about that?
From the start the producers & directors were looking to select and secure a well-known artist to create a bespoke theme to form the key song in the film. The film company, Lupus Films are great to work with as they think about music early on in the process.
The director's wanted a simple song that would work with the film's target age group and that had a range of emotion as the song was to be used at the climax of the film when the family re-unite. So it would need to help express the journey of the characters.
I came on board at script/animatic stage and worked with George's management company to pitch the idea to George and he agreed to meet with the production team. The day after the meeting, George recorded a stripped down demo of a song, 'Me & You' with vocals/guitar and sent an iPhone recording to us. He'd nailed it first time and the iPhone recording was used in the film animatic without a single change, all the way up until the final recording during post production. This is the first time George has ever composed a bespoke song for TV or film.
The use of the song actually begins at the start of the last scene when the family reunite and sing and dance to George's song. The score composer, Stuart Hancock sang George's lyrics and whistled for the character of Dad and arranged for a ukulele player to record a part. The lead actress for Rosie then sang a verse and chorus from the song which was recorded for the animators to animate the scene and edit to picture.
The soundtrack album was made available on Christmas Eve via Sony Classical on the first day of broadcast and over 8 million viewers tuned in overall, making it Channel 4's most watched programme across all genres in four years.
I understand you faced some challenging issues with Into the Inferno, can you tell us about that?
The opportunity to work on a Werner Herzog film was a great experience. He's a fan of using choral and classical music so it wasn't surprising that the film went down this route.
I came onto the project quite a way into post production and Werner had temped in some pieces from Holy Trinity and St Sergius Lavra Choir – one of the largest orthodox churches in Russia. He used them at key places in the film, opening and closing credits having found the music on bootleg CD's. It's quite common for a lot of church music to be bootlegged on CD in Europe. It meant seeking permission from the church hierarchy so we spent over a month with people on the ground in Russia and writing letters to the Archbishop before word came back that the church denied use of these pieces because they felt that Into The inferno was associated with hellfire and the raging inferno of hell.
Due to the timeline we had twenty four hours to source replacements for these key sequences. It then quickly transpired that a lot of church music available on digital or CD did not extend to sync rights so all the music we found that worked we couldn't license in time as it would need the approval from that particular church. At this point and with time running out, I actually sought inspiration from my Stepmum and her church connections. It was funny as when I called her, she was at a church meeting and I had her group pitching in with ideas.
One of the albums she recommended was perfect, by Monks and Metropolitan Choirs of Kiev Pechersk which we managed to track down the rights owner in Uruguay, clear and sign off paperwork in a few hours at the same time as sending Werner suggestions from the album which he approved. I have to say a big thank you to my colleague, Bree Winwood for her top investigative skills in tracking down the rights owner and getting a deal done and a thank you to the rights owner, Origen Music.
You really have to be prepared for scenarios like that. At time's you're balancing a lot of things; financial, production schedules, creative demands whilst keeping the editor, director and producer happy. It's all about staying on top of things and thinking on your feet with a resourceful head on.
Speaking of pressures, what's your opinion of the budgets on projects ?
Part of our job as a music supervisor is to engage, inform and educate production teams on realistic music budgets to achieve the desired end result. If this happens as early in the process as possible then it makes for a better finished product. There are of course exceptional circumstances and in these cases a music supervisor's true metal can be tested as you're required to be very creative and resourceful in delivering music with a limited budget.
The Guild is a great platform to ensure we uphold the value of music and to help provide proper resource and training to new people entering the profession.
Clearly you are highly experienced in your field, any advice for those looking to get into Supervision?
This has two parts. The job requires working in a number of creative and business music areas and it's important that you have experience and knowledge of the other side of the fence in these key areas. Get first-hand experience of working with a composer or agent, licensing at a music publisher or label, artist management or at a film, TV company or ad agency.
Secondly, do something of your own that demonstrates your passion for music/and or your preferred music supervision field. Whether it's doing a radio show, making music, DJ'ing, promoting a night or helping out on a short film. Show initiative and drive, and this will make you stand out from the rest.
Last but not least, what's your career highlight?
I've been lucky to work on some great films to date and with fantastic music. I'd have to say though, setting up my own independent company, now in its fourth year and focused purely on film music supervision has been the highlight.
May I thank Bree Winwood at this point, as Bree has worked with me for over a year and has been an absolute legend. Also a huge thanks to all the rights owners, sync agents, artists and writers that continue to represent and make amazing music, and for allowing me the privilege of using their music.
Gary is currently working on seven films, including the adaptation of Jo Brand's novel, The More You Ignore Me starring Sheridan Smith. Kevin Macdonald's Whitney Houston documentary as well as authorised documentaries on Eric Clapton and Vivienne Westwood.
He has kindly offered to giveaway two free copies of The Sunshine Makers limited 180 gram gatefold LP to the first two people that email to info@guildofmusicsupervisors.co.uk (please include your postal address).