By Vicky Bennett / GMS Administrator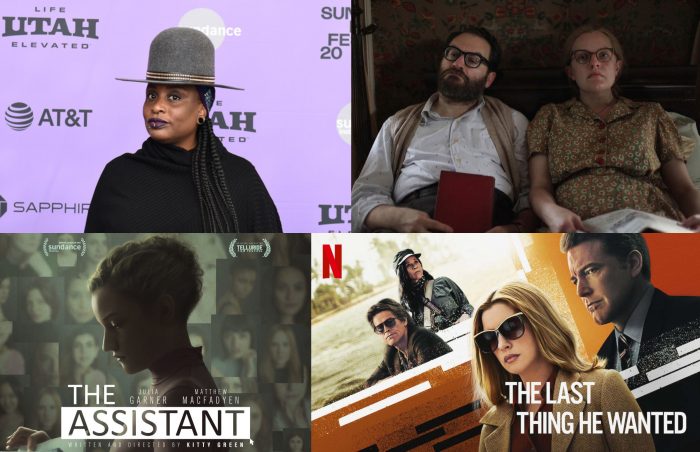 Tamar-kali has worked on the original music for three exciting films which have recently premiered at the 2020 Sundance Film Festival.
These films are:
Shirley, directed by Josephine Decker.
Shirley follows "a young couple that moves in with Shirley Jackson and her Bennington College professor-husband, Stanley Hyman, in the hopes of starting a new life. Instead, they find themselves fodder for a psycho-drama that inspires Jackson's next major novel."
The Assistant, directed by Kitty Green.
Jane, a recent college graduate and aspiring film producer, just landed her dream job as a junior assistant to a powerful entertainment mogul…But as Jane follows her daily routine, she grows increasingly aware of the abuse that insidiously colours every aspect of her workday, an accumulation of degradations against which she decides to take a stand.

The Last Thing He Wanted, directed by Dee Rees.
A hard-hitting reporter becomes entangled in the story she's trying to break when she helps her ailing father broker an arms deal in Central America.
—
Since the premiere of these films at the Sundance Film Festival, we had the absolute pleasure to speak with Tamar-kali in understanding the creation and her process behind these films.
Vicky: What was it that drew you in to score these films individually?
Tamar-kali: In general it is always the opportunity to collaborate with another artist whose voice and vision are unique, strong and provocative.
Dee and I have a relationship dating back to her 1st feature on which I lent songs to the soundtrack and had a cameo appearance in the film. Then came Bessie for which I sang on the soundtrack and Mudbound which I scored. She has a wealth of ideas and a strong vision. I was excited about the opportunity to write for a project of this ilk; espionage drama, psychological thriller was a genre I had yet to work within.
Josephine's work is quite visceral. I described Shirley as a fever dream after seeing the rough cut. It was such a departure for the score I had just produced for The Last Thing He Wanted and it proved to be a delightful seque artistically. I was able to lean on my choral classical training and in addition, experiment with my voice in ways I had not before to create a world right on the edge of the conscious and subconscious.
Kitty possesses a level of self-control and such a strong unique voice straight out of the gate so early on in her career. I was really impressed with her confident and patient style for The Assistant. In a world where people are drawn to the explosive and salacious, she competently illustrates the micro-fissures that create a malignancy in the organ and cause its collapse. The music had to be a delicate touch and she was very clear on what she wanted and where she needed it and her instincts were spot on.

Vicky: How do you interpret what the directors want from a scene?

Tamar-kali: Well first off, I request that we discuss the music in impressionistic, emotion-based terms. I attempt to intuit what it is that they are looking for sonically from these conversations. I like them to elaborate on the purpose and function of the scene and motivation of the characters and then I take a stab at it. There are ways to use rhythm, range and key to convey intensity, depth and emotion. Sweet melodies may cast a mood of sentimentality. An instrument with a low range can convey a sense of danger. Rhythm and percussive elements can represent movement. There is a living language of sound and how it affects the listener.
Vicky: What inspired you to set the tone of Shirley, for Elizabeth Moss's character, knowing she is portraying a horror writer all whilst the reality of horror within Shirley slowly unravels?
Tamar-kali: The focus in the development of the musical arc of the film was the relationship between the characters and Shirley's psychological and emotional states. Josephine stated early on in the process that she was interested in the female voice as a lead instrument. I used a trio of voices to represent the 3 women in the film and played with layering and cadence to illustrate the waking dream moments in the film creating a veil between worlds.
Vicky: Even though the name of your composition for Shirley, 'The Death of Little Wifey', suggests sadness and grief, the sound of the composition invites a sense of freedom and bliss – starting with ominous fast plucking of the strings and quickly transitioning into a joyful spring in the piano keys.


— How did you feel using these tones and instruments best represented the sound you wanted to communicate to the audience?
Tamar-kali:The title speaks to the character Rose shedding a skin that was not serving her and reclaiming herself. The quickening pace represents her breaking free from the spell she was under and running towards a new story she will determine for herself.
Vicky: In The Assistant, Jane journeys her descent into feeling at war with herself when the development of the insidious duties and events occurring in the office start to come to realisation for her.


— The tone you set for Jane's character in the composition, 'Girl, Jane', sounds very conflicted, as though acting upon her concerns will land her in trouble – a musical journey of Jane being so close to taking action but holding herself back. Would you say this is something you wanted to convey to the audience?
Tamar-kali: Girl Jane is the music that is played after the film has ended during the credits. It is meant to accompany the audience as they process the thoughts and the emotions they are left with at the end of the film.
As the theme representing Jane's struggle as someone with no power in an environment shaped by the abuse of power and authority, its purpose is to convey the weight of the position she finds herself in.
Vicky: How closely did you collaborate with the Music Supervisors in Shirley (Bruce Gilbert & Lauren Mikus) as well as with the MS in The Last Thing He Wanted (Evyen Klean & Janet Lopez) to ensure that both the soundtrack and score complemented each other?
Tamar-kali: I worked exclusively with the director and music editor on both films. My process tends to be pretty isolated on projects in general. On the films I have worked on so far, the source cues have been diegetic and serve a separate purpose from the score.
Vicky: What were the compositional challenges with each of these projects?
Tamar-kali: The greatest challenges I encounter in general most often are time and intensity. As a solo DIY composer, I learn through each project on how to improve my process. I am in the early stages of this aspect of my career with the goal of creating a sustainable practice.
Indie films require more creativity outside of the actual art as the budgets are small but you don't want to compromise the vision and Shirley was not an exception to that rule. My experience as an indie artist for 20+ years gave me the experience to know how to handle that challenge.
TLTHW had a wide array of temp samples. The challenge was bridging the gap between a disparate group of musical examples to craft an original score that was cohesive. That work highlights my largest most varied arrangements for film to this date.
The Assistant score is so minimal, it took a beat to get the elements just right but then we were able to flow and get everything accomplished in the very short window of time we had to execute.
Each film presents another opportunity to expand my team-building skills, deepen my patience and strengthen my ability to take things seriously and not personally. Coming to film score composing as a performing and recording artist gives me the advantage of not seeing my contributions to film as my only lane for expression. It is exciting to have just one focus as opposed to my solo work where I am wearing multiple hats.
Vicky: Out of all your compositions in each of these films, is there a personal musical highlight and anything memorable to note during the process when composing the scores?
Tamar-kali: Shirley stands out in general, as I was really able to flex my creative muscles. It is the most experimental of the scores.
The score for TLTHW however, was an expansive step for the work I have put into the world in film so far in terms of size and variety. It establishes that my abilities extend beyond the contemporary classical chamber style of Mudbound and Come Sunday. I was able to bring a wider range of my eclectic musical ideas to bear.
---
Thank you once again for taking the time out to speak with us here at the UK and European Guild of Music Supervisors, we wish you all the best of luck on all future work!
The Last Thing He Wanted is now available to stream on Netflix!
Shirley and The Assistant will be released later this year in cinemas!