---
By Vicky Bennett / GMS Administrator
---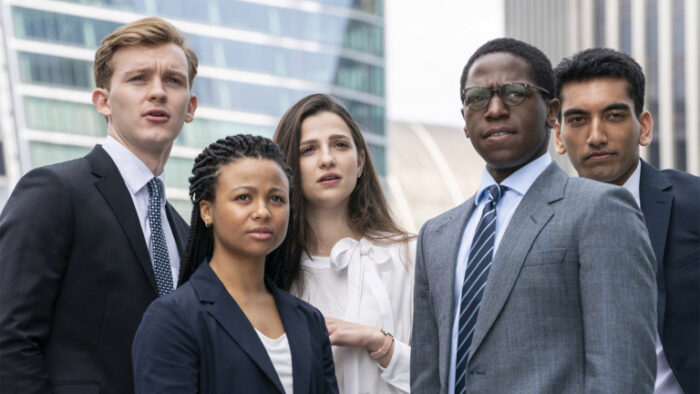 This November, BBC x HBO launched a new series 'Industry' – an eight-part drama about young graduates on the trading floor of London's City banking industry. The series follows these graduates and gives us a step into the chaotic reality of the finance world during the day and the darkness that happens behind closed doors after the sun goes down.

But what is perhaps the highlight of the show, is the mystifying electronic dance soundtrack that accompanies the night owls in the Pierpoint & Co offices as well as keeping the audience captivated to the drama happening on-screen.

Since its release, we have had the opportunity and pleasure to speak with Music Supervisor, Oliver White (Theodore Music) and Composer, Nathan Micay, to get further insight into the music behind the series.
---
After initially reading the script, which scene did you look forward to working on the most?
Oliver:
Episode 4, where Harper tries to save her mis-booked trade after an all-nighter on booze and cocaine, gave me an anxiety attack! The pace and intensity from the script were insane and there was so much room to heighten the adrenaline of the sequence with music. This scene ended up being my favourite piece of score that Nathan produced. He crafted a dynamic 5-minute long cue which meandered through Harpers wins and setbacks and raised the pressure-cooker atmosphere.
Just to mention one more scene which got me excited at script stage and that's the final montage in Episode 8 which was a beautiful, romantic sequence of our grads and where their season-long arcs and stories end up. Todd Terje and Bryan Ferry's cover of Robert Palmer's 'Johnny and Mary' was one of the first songs I discussed with the two creators Mickey Down and Konrad Kay. We loved the lyrical message of "running around trying to find certainty" and it's melancholic but euphoric end note was a fitting closer for the show.
Nathan:
I actually saw semi-finished episodes before reading any script. After the initial meeting with Mickey and Konrad, I was sent drafts of episodes 1-5 with temp music and unfinished FX etc..I was immediately taken by the opening scene and interviews. I got this feeling of rush and excitement from Eric and Harper's interaction when they first meet, followed by Harper's first big walk around London. I couldn't wait to get started on that. I was also very taken by Eric's aggressive speech in episode 3. It was the first time we really saw his power or any senior character showing their authority at its rawest. After seeing the potential for so much uplifting music for the grads, it was a nice opportunity to show a different side of the show and my own compositions.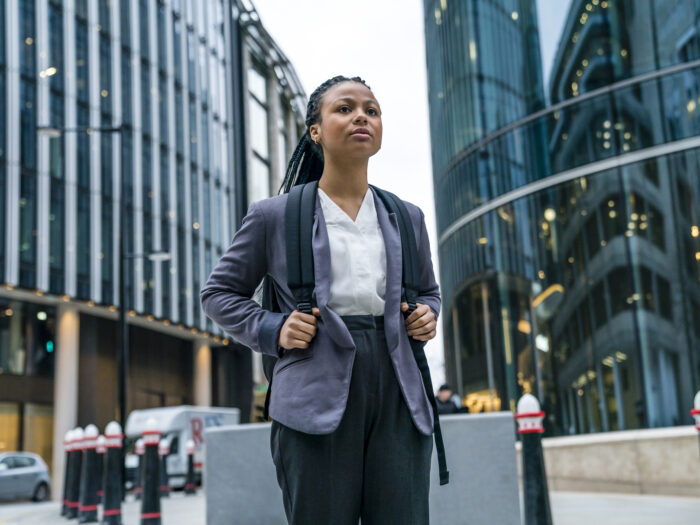 How closely did you collaborate with Konrad Kay and Mickey Down to interpret what music they wanted throughout the series, to set the tone of a scene, and from there, what was the next step in your process?
Oliver:
I collaborated very closely with Mickey and Kon; they were the main voice of the show and had strong opinions on music so it helped they had good knowledge and taste.
There were a load of tracks and lyrical references already written into the script, so this gave me an indication in where Mickey and Kon wanted to take the show sonically. After reading the scripts and chatting through with both them and the four directors on the show, it was easy to come up with a mandate on how we were going to approach music in Industry; commercial music is the ears and eyes of our grads and the score is their heart, soul and inner spirit.
From this, I created collab playlists with Mickey and Konrad for literally everything. It was helpful coming on to the project early into the script stage because way before filming we had a clear vision on music and we were able to write more songs into the script. This helped with directors being able to craft scenes with specific songs in mind before filming.
Nathan:
Quite closely. Even in the first meeting in London before Covid, we were very quickly talking influences and sound pallets for the score. We shared a love of Tangerine Dream in Risky Business and the idea of themes for different characters. It was great. Once the actual writing began, Mickey and Konrad struck a really great balance of offering influences and ideas but ultimately leaving the writing of the score to me without too much checking in. They were super supportive of different sounds that began to emerge and this being my first major scoring project, that was greatly appreciated. Of course, the finer details of timings and particular sounds were sometimes analyzed more granularly, but the results were always spot on and I learned a lot from it. The entire process really felt more along the lines of "ok let's talk ideas, ideas sounds and influences", leaving me to it and then pulling the different threads that seemed to be working. I felt I had more liberty to experiment as the writing process went along.
How did you ensure that the music selected/composed was mirrored within the individual stories that each of the characters were going through?
Oliver:
Spotting sessions played an important part in this. There are lots in a story that isn't written in a script or also totally obvious from watching a scene and we can bring these little narrative nuggets out in the music. For me spotting sessions are so important for this and the time where I can get inside the creators and directors heads and find some interesting element in the story that isn't necessarily what you are seeing on screen at that very second but you know plays to the bigger picture for the wider story.

Fortunately, with Industry filming just finished before we went into lockdown but we had to adapt the way we work in post. Zoom and Blue Jean were integral for communication and all spotting session happened via one of these platforms.
Nathan:
For the score, I believe the writing process began more with themes for moods rather than induvial character arcs. The main theme heard in the opening scene became the go-to for any scenes in which the grads were feeling excited about their new journey. However, the theme became very malleable and applicable to darker and more subdued cues. In the first episode, the same theme is used for Hari's taxi ride to an ultimately doomed night at work. For that version of the theme, I drowned the main synth in reverb and just made the entire thing feel more distant. That was actually an idea of Mickey, Konrad and Ollie and was an idea that carried on for the rest of the season.

The spotting sessions were very productive and collaborative. After a session involving a key cue, I would usually try to write a few short pieces of music with different sound pallets for major scenes, sometimes up to six or seven options. This became a really effective way to strike the right tone for stories and characters. My favorite thread that emerged from this was the use of orchestral elements in the more emotional and grounded scenes. It felt more appropriate to have organic sounds in the heart to heart moments of the characters. A great example of this was Rob and Clement at the tailors in Ep 5.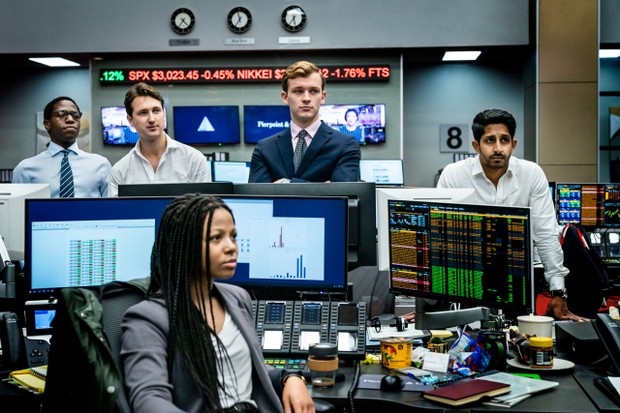 Were there any challenges you faced throughout the process of this project and what was your most memorable moment/highlight of working on Industry?
Oliver:
Lockdown was certainly a challenge for post but also I think we learned to play it to our advantage. For the score, we were enormously stretched with time because of delays locking to picture but this meant the music team (Nathan – composer, Daniel Elms – Music Editor and I) had no distractions and were able to be 100% focused on Industry. As DJs, Nathan and I had a lot of gigs booked over the summer that were wiped clean; a blessing as I don't think we would have finished in time otherwise!
The highlight for me was the moment Nathan sent me a V1 of what was to later become the main theme of the show – it blew me away immediately as a standalone piece of music but when applied to picture, it was another level. It's a great example of the picture and sound complimenting each other. It came at the perfect time as well. We'd been slaving over a set of tricky scenes (the Hari death scene which at the time was intercut with Harper's trade). It's quite an intense sequence that really started taking its toll on the music depth haha. Nathan pressed reset by going off to compose something totally the opposite – something optimistic and hopeful – it's what we needed at the time and boy he delivered! That was the moment we cracked the code and everything came together really quickly from then.
Nathan:
Artistically, a huge challenge was the self-imposed limitation of doing a big, energetic and mostly electronic score with pretty much no drums. Dan Elms, our music editor, was so encouraging and helped me accomplish this goal. Dan's wisdom and years of experience during all this have been priceless to me as a composer. He just seemed to always have the answer when I was stuck technically or needed a breakthrough on a cue.
It was really interesting to be working so closely with someone you've never met for so long. I was lucky to have met Ollie at that initial meeting in London. My two biggest highlights of this project were: seeing that opening scene finally finished and then re-watching the first initial drafts.
The progression really is staggering and it felt like a team effort.

Which leads into my 2nd highlight: the team banter. I learned so many UK-isms and just generally looked forward to Zoom calls and everyday meetings with the entire Industry team. Looking forward to one of those Greg's pasty's I've heard so much about…
What was your inspiration for the Industry theme music and at which point in the process did you produce this?
Nathan:
The music itself is a variation of my song 'Blue Spring', which is from my album of the same name released by LuckyMe Records in 2019. Dan Elms did a great job in helping to re-shape it for the show. I also produced additional elements to give the track a more exclusive flavor for the show, as well as a heightened sense of emotional weight. The idea to use it as the opening theme came from Ollie, Mickey and Konrad. Dan and I began to re-write and edit it fairly late in the overall process.
The theme music was really influenced by my last eight years or so working as a touring DJ. I've been to so many clubs and festivals now, it's really given me an appreciation for how to harness that raw energy given from a crowd. How to use emotional sounds to lead people towards a musical crescendo they didn't' see coming. For Industry, I wanted to capture that same feeling for the show's theme and intro. The audience are tuning in to a series based around banking, but it was very important that right off the bat, it's clear that for these grads, working at Pierpoint & Co. was very much the most exciting thing they could have ever been doing in their lives. The trading floor is their dance. It's a feeling of chaotic energy becoming kinetic. It is immediate and propels you right into Pierpoint and Co.
---
A huge thank you to Oliver and Nathan for taking the time out to speak with us here at GMS, we wish you all the best in your future work!
The full season of Industry can be streamed now on BBC iPlayer!
---
Nathan Micay's Industry OST is out now and available to buy and stream HERE with the full 14-track LP set (as seen below) out now as a digital release, which you can find HERE.

For Film&TV licensing, Nathan Micay is represented by Warp Records on behalf of LuckyMe and Domino Publishing.
Tracklist
01. Industry
02. Birth Of A World Killer
03. Winnings
04. He Still Has The Key
05. Country Club Henries
06. Cutting A Line At The Tailor
07. Don't Speak To The Press (For My Love)
08. Harper's Morning Pitch
09. To Me, You're Worthless
10. You're Far Too Young
11. Funnily Enough I Remember
12. I Need The Structure
13. Grad Walk
14. End Credits (Let's Go Make Some Money)