---
By Rebecca Grierson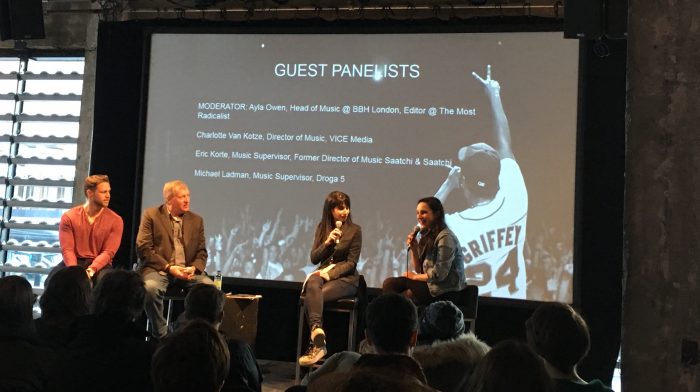 ---
M for Montreal is a four day conference and celebration of Canadian and international music with panels, workshops and live performances across 15 venues. The conference has been running since 2006 and this year hosted 100's of delegate's and live gigs with a diverse line up of artists.
Erased Tapes hosted a panel and a speed networking music event with Music Supervisors from the UK including myself, Ayla Owen, Will Quiney and Duncan Smith who moderated the session along with some fellow US and Canadian Supervisors.
We each had 12 slots allocated for delegates to sign up to. I was lucky to meet some inspiring local Artists, Managers, Labels and Publishers. We were presented with music to listen to and feedback on for Producers looking for new sync opportunities and labels playing new material. I will be keeping in touch with everyone I met and I hope to work on some future collaborations together. A few stand out artists from the session were – William Prince who sounds a little like a young Johnny Cash, Beyries an enchanting singer songwriter with an incredible life story, Sorrrel and Dralms.
BBH London's Head of Music Ayla Owen moderated a session on the Evolution of Creative Advertising, with industry leaders Charlotte Von Kotze (VICE Media, NYC), Michael Ladman (Droga 5, NYC) and Eric Korte (Former Head of Music, Saatchi & Saatchi). The group discussion focused on the importance of authenticity in the field of branded entertainment and editorial, with each panellist sharing a recent example of relevant, credible content featuring a strong relationship between brand and artist.
"It was a total joy to chat to Charlotte, Mike and Eric about all their individual experiences within the field of branded content, as they all had such unique, fascinating stories to tell. It's clear that in the increasingly engagement-driven world of branding, we're going to be hearing a lot more from these passionate, clever folk.'" Ayla Owen
We managed to cram in as many gigs as humanly possible, the most extravagant being the local Casino for a Canadian Hip hop showcase including Lou Phelps (the younger brother of Kaytranada). Live music highlights for me included Pierre Kwenders a Canadian Congolese Hip Hop artist, Respectful Child an incredible violinist and Yonatan Gat an extremely talented guitarist from Israel now living in New York. Gat performed on a carpet rug in the middle of the venue with the crowd circled around him, a unique experience. The most energetic performance was by Paul Jacobs who reminded me of a young Iggy Pop, he was well worth breaking our curfew for!
Saturday I had major FOMO for missing Douglas Dare's show, if you happen to be travelling to Montreal I would highly recommend that you to visit the Museum of Modern Art to see the Leonard Cohen exhibition where Douglas has an installation. We also managed to fit in a whistle-stop tour of Montreal with festival organiser Mikey showing us around on a school bus with sights including Cohen's house and Muriel.
Overall I found M For Montreal to be well organised, welcoming, diverse and inspirational. I discovered some interesting Canadian Composers and artists, and made some good connections. I would highly recommend going.
———
We're always looking for ways to get the word out about the Guild and our initiatives. If you're involved in an event and would like a supervisor to attend then get in touch. Alternatively, if you'd like to keep up with our adventures then become a member.